---
Mountain Valley Pipeline, LLC released the following statement and background information in response to the modified stop work order issued by the Federal Energy Regulatory Commission (FERC) on 15 August 2018, for the Mountain Valley Pipeline (MVP) project. The modification allows construction to restart for approximately 77 miles of the route in West Virginia, with exception of a 7 mile area located in proximity to the Weston Gauley Bridge Turnpike Trail. However, because of the continued work stoppage order that impacts more than 200 miles of the project's route, MVP has released as much as 50% of its construction workforce.
"Despite the construction activities authorised under the modified work order and the FERC-approved stabilisation plan, MVP was forced to take immediate measures to address an idled workforce and protect the integrity of the project. MVP is working to mitigate any additional job loss; and we believe we are making progress to receive authorisation to resume full construction activities and return the currently released workers back to their jobs. Constructing the Mountain Valley Pipeline in the safest manner possible; minimising impacts to sensitive species and environmental, cultural, and historic resources; and ensuring the highest levels of environmental protection remain our top priorities. As we continue working closely with the agencies to clarify and resolve the issues related to the stop work order, we appreciate the FERC's responsible review and consideration of the modified work order and look forward to continuing the safe construction of this important infrastructure project."
The 3 August 2018 stop work order was issued following a federal court of appeals ruling regarding the adequacy of permits for a 3.5 mile right-of-way in the Jefferson National Forest (JNF) issued by the US Forest Service (USFS), relating to sedimentation controls; and the Bureau of Land Management (BLM), relating to the impracticality of alternative routes. Those permits apply to only approximately 1% of MVP's overall 303 mile project route and MVP had previously halted construction work in the JNF on 27 July 2018. As FERC noted in its stop work order, "There is no reason to believe that the Forest Service or the Army Corps of Engineers, as the land managing agencies, or the BLM, as the federal rights of grantor, will not be able to comply with the Court's instructions and to ultimately issue new right-of-way grants that satisfy the Court's requirements."
MVP remains committed to the earliest possible in-service date; however, under current circumstances a full in-service is now expected during 4Q19. MVP will continue daily evaluations of its construction plan and provide updates as the regulatory process progresses.
Read the article online at: https://www.worldpipelines.com/project-news/17082018/mountain-valley-pipeline-stop-work-order-is-modified/
You might also like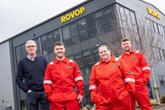 ROVOP focused on producing the 'next generation' of ROV pilots, adds three new trainees to its training programme.