---
Westwood Global Energy Group reports that the COVID-19 pandemic and collapse in oil prices saw global pipeline installations fall from highs seen over 2017 - 2019 with Capex estimated to have fallen circa 30% in 2020. Improving sentiment and outlook for commodity prices is expected to help projects progress through to completion, as well as boost demand for new installations in regions, where increases in production capacity will require new pipeline infrastructure.

Onshore pipeline Capex by region 2016 – 2025. Source: World Onshore Pipelines Market Forecast, Westwood.
This will see Capex recover in 2021 and maintain a steady trend over the forecast period. Collectively North America, Asia, Eastern Europe and FSU account for circa 76% of forecast Capex over the 2021 - 2025 period. Gas infrastructure leads new installations accounting for circa 66% over the 2021 - 2025 period.
However, several pressures remain which are expected to add downside risk to the forecast. Chief among these are geopolitics, focus on climate change and the increasing momentum of the Energy Transition particularly in the western hemisphere. There exists the potential risk of reduced appetite from financiers and lenders to project finance fossil fuel projects going forward. This has led to increased delays (and subsequently increased costs) on several projects as well as cancellations. The prominent Keystone XL Pipeline, was formally cancelled in June 2021, following US President Biden revoking construction permits for the project on his first day in office in January 2021.
North America was the hardest hit region in terms of the decline seen in 2020 with several projects (already significantly delayed) such as the Atlantic Coast Pipeline formally cancelled. Despite the overall improvement in market sentiment, challenges remain over the forecast period, driven by lower than expected Oil & Gas production outlooks from US unconventional basins.

Pipeline installations by phase type 2016 – 2025. Source: World Onshore Pipelines Market Forecast, Westwood.
Outside the US, several countries are pursuing energy security and clean agendas; illustrated via gas infrastructure developments in areas historically dominated by crude oil related infrastructure. Examples include Saudi Arabia, where MGSE Phase 2 and North & South Haradh GCP gas pipeline projects will drive demand for pipeline installations. China's ambitious plans to boost domestic production and unlock vast potential unconventional reserves are expected to drive demand for pipeline infrastructure – e.g. the Xin-Zhe-Yue synthetic gas pipeline and Tianjin-Inner Mongolia Pipeline. A robust installation outlook is also expected for Eastern Europe & FSU, following on from the completion of Power of Siberia in 2019. Power of Siberia 2 and a series of gas pipeline projects starting in Poland, such as the Slovakia Gas Interconnector and Poland – Ukraine gas pipelines are key projects over the forecast period.
Operational expenditure (Opex) was far more resilient to the 2020 oil price crash (compared to Capex) dropping by circa 5% relative to 2019 as operators largely maintained essential operations on the installed base of pipelines globally. Regions with the largest installed base of ageing pipelines naturally accrue the highest Opex: North America, Asia and EE & FSU collectively account for circa 73% of the forecast global Opex spend. Coupled with the highest global installed base (circa 945 000 km in 2021); North America's stringent regulation for pipeline operations and maintenance spend will see forecast Opex total circa US$43 billion over the 2021 - 2025 period.

Onshore pipeline Opex by region 2016 – 2025. Source: World Onshore Pipelines Market Forecast, Westwood.
Summary
Improved oil prices, recovering demand and increasing focus on natural gas for power generation is expected to drive demand (from the lows of 2020) for pipeline installations over the forecast period. Overall pipeline Capex however, is forecast to be lower than the previous 5 year period, predominantly due to a reduction in North American installation levels. Asia, Eastern Europe & FSU and the Middle East are key to the realisation of forecast activity levels and associated spend.
Written by Ben Wilby, Senior Analyst and Arindam Das, Head of Onshore.
Read the latest issue of World Pipelines magazine for pipeline news, project stories, industry insight and technical articles.
World Pipelines' June 2021 issue
The June issue of World Pipelines includes a regional report on Russia's most prominent oil and gas pipeline projects, as well as technical articles on design standardisation (Burns & McDonnell), corrosion (Tesi S.p.A.), hydrogen blending in pipelines (ILF) and much more. Don't miss the dedicated Coatings Q&A on p. 23, with Winn & Coales International Ltd.
Read the article online at: https://www.worldpipelines.com/project-news/17062021/pipeline-installations-spend-to-increase-by-10-to-us45-billion-in-2021/
You might also like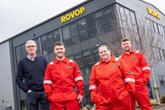 ROVOP focused on producing the 'next generation' of ROV pilots, adds three new trainees to its training programme.