---
The trunk/transmission pipeline segment is set to dominate upcoming midstream oil and gas projects in the US, accounting for about 46% of the project starts between 2023 and 2027, says GlobalData.
GlobalData's report, 'North America Oil and Gas Projects Analytics and Forecast by Project Type, Sector, Countries, Development Stage, Capacity and Cost, 2023 - 2027,' reveals that 203 midstream projects are expected to start operations in the US during the period 2023 - 2027. Out of these, the trunk/transmission pipelines segment alone comprises 94 projects, followed by gas processing and LNG with 40 and 30, respectively.
Himani Pant Pandey, Oil & Gas Analyst at GlobalData, comments: "The midstream sector in the US continues to grow due to the development of LNG, pipelines, and storage infrastructure to meet domestic oil and gas demand. Additionally, plans to export shale gas as LNG have given further impetus to the development of the country's midstream sector."
Among the upcoming pipeline projects in the US, Companero is a key project with a pipeline length of 821 km. To be operated by Permico Energia LLC, the project is expected to commence operations in 2024.
Pandey concludes: "The US already has one of the largest trunk/transmission pipeline networks in the world, and new pipelines, especially natural gas pipelines, are being planned to reduce domestic carbon emissions and for LNG exports."
Read the article online at: https://www.worldpipelines.com/project-news/15032023/globaldata-trunk-pipelines-to-dominate-midstream-project-starts-to-2027/
You might also like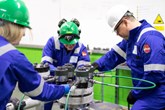 3t EnerMech named regional winner at top engineering awards for the second year in a row.