---
Williams Partners L.P. has announced the company anticipates beginning construction on its Hillabee Expansion Project soon. The Federal Energy Regulatory Commission (FERC) recently approved the project. The project involves the expansion of Williams Partners' Transco pipeline system to serve the growing need for natural gas in Florida.
Construction is scheduled to begin in May. The first phase of the project is expected to go into service in May 2017. It will provide incremental firm capacity from certain receipt points located at Transco's Station 85 in Choctaw County, Ala. to a proposed point of interconnection between Transco and the Sabal Trail pipeline in Tallapoosa County, Ala. Sabal Trail will acquire by lease 100% of such capacity on a long-term basis.
To be constructed in three phases, the Hillabee Expansion is designed to add a total of approximately 1.13 million dekatherms per day of pipeline capacity to the Transco system by May 2021. That's enough natural gas to meet the needs of more than 4 million American homes annually.
The expansion involves the construction of approximately 43 miles of additional pipe segments in Alabama, a new compressor facility in Choctaw County, Ala., as well as modifications to other existing compressor stations and valve sites. The Hillabee Expansion project is included in Williams Partners 2016 growth capital funding plan announced on January 25.
"We're excited to move forward as planned with this critical piece of infrastructure to help meet long-term natural gas needs in Florida," said Rory Miller, Senior Vice President of Williams Partners' Atlantic-Gulf operating area. "The Hillabee expansion is among several fully contracted interstate pipeline projects Williams Partners is executing on to connect North America's abundant natural gas supplies to demand growth from the local distribution, electric power generation, industrial and LNG export businesses."
Edited from press release by Angharad Lock
Read the article online at: https://www.worldpipelines.com/project-news/14032016/williams-partners-to-begin-hillabee-expansion-construction-314/
You might also like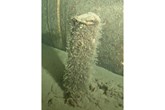 Denmark invites Gazprom to help salvage unidentified object found close to only remaining intact gas pipeline under Baltic Sea.