---
The preparations for the construction of the European gas pipeline link (EUGAL) are making progress. The first pipes were delivered on 1 September in Mecklenburg-Western Pomerania and stored at pipe storage points until construction of EUGAL starts in mid 2018.
The storage points for the pipes are located along the planned route. The pipes will be transported by train to the Vorpommern-Greifswald district and then distributed by truck from railway stations in Lubmin, Drögeheide and Prenzlau to nearby storage points.
GASCADE is mounting a huge logistics effort to ensure that all the pipes are on site in good time before construction gets underway. "In the case of such a large project like the construction of EUGAL it is vital that all the steps are perfectly co-ordinated," Ludger Hümbs, Chief Project Manager for EUGAL, explains. GASCADE will begin building the pipeline once the planning approval notice has been issued, which is expected in mid 2018. "So far, we're on schedule and expect all the approvals to be available as planned," says Hümbs.
Just under 47 000 pipes are needed for the around 485 km long pipeline from the Baltic Sea to the German-Czech border. Each of the pipes measures 1.40 m dia. (DN 1400), is around 18 m long, and weighs 15 t. The pipes are being manufactured by EUROPIPE in Mülheim an der Ruhr.
With the construction of the pipeline, GASCADE is responding to the growing demand for gas and gas transport capacity in Europe. Forecasts from the European network development plan 2017 see an import gap of up to 183 billion m3/y by 2035. At the same time, the Europe-wide market survey more capacity shows that the long-term transport requirements between Germany and its neighbours are in some cases well above the available technical capacities.
With the aid of EUGAL, natural gas will be transported flexibly in in all directions in Europe – within Germany, and to western and southeastern Europe. The pipeline will thus make an important contribution to a robust and flexible energy supply for Germany and Europe.
Read the article online at: https://www.worldpipelines.com/project-news/13092017/first-pipes-delivered-for-eugal-project/
You might also like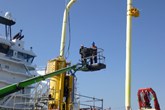 AIS awarded another custom coating project offshore Brazil.