---
The following is a statement by Atlantic Coast Pipeline spokesperson Aaron Ruby regarding the recent decision by the Virginia State Air Pollution Control Board to defer action on the Buckingham compressor station draft air permit until 10 December:
"While we're disappointed with the delay, we're confident that after considering the full public record in support of this permit the Board will approve it. The draft permit recommended by the Virginia Department of Environmental Quality (DEQ) is the most stringent air permit with the strongest environmental protections of any compressor station in the country. It is the gold standard for how compressor stations should be permitted and operated.
"As a result of this permit and the unprecedented protections we've put in place, methane emissions will be reduced by 99% and other air emissions by 50 - 80%. Because of the additional sound and visual buffers we're adopting, the station will have zero noise or visual impacts on the surrounding community.
"The compressor station was approved by the Federal Energy Regulatory Commission (FERC) after four years of exhaustive review and was unanimously approved by the Buckingham Board of Supervisors after more than a year of public review and participation. The Buckingham Board of Supervisors imposed more restrictive conditions on its Special Use Permit than any other permit in the county's history.
"We take social responsibility and environmental justice very seriously. As good corporate citizens, we have a responsibility to support and engage with the communities where we do business. Over the last four years, we have meaningfully engaged with the Union Hill community and are investing more than US$5 million to build a new community centre and upgrade Buckingham County's emergency response capabilities. We have a profound respect for this community and its history, and we're investing in their future."
Read the article online at: https://www.worldpipelines.com/project-news/12112018/atlantic-coast-pipeline-on-its-compressor-station-air-permit/
You might also like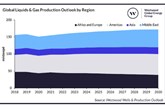 New report from Westwood finds liquids and gas production set to reach 173 million boe/d by 2030, with 9% growth on 2022 levels.