---
A Louisiana judge has found that the state Department of Natural Resources (DNR) violated state environmental guidelines when it approved a permit for a portion of the controversial Bayou Bridge Pipeline crossing coastal wetlands.
In a decision made public on Monday 7 May (a ruling made on 30 April), Judge Alvin Turner at the state's 23rd Judicial District Court in Gonzales told the DNR to reconsider the permit and ruled that the permit granted to Energy Transfer Partners to build the 18 mile stretch of the pipeline was illegal because it did not consider how the pipeline would impact the town and its residents.
Turner also stated that the permit application failed to include any emergency response plans plan to address spills that could occur during construction or after the pipeline was in use and said that Bayou Bridge needed to develop effective environmental protection in the event of a spill or other environmental disaster.
If completed, the 163 mile Bayou Bridge pipeline would go through the riverside town of St. James Parish, and would also run through the Atchafalaya Basin, the nation's largest river swamp.
It has been reported that Judge Turner stated in his ruling: "Once constructed, this pipeline has the potential to impact some of Louisiana's most coveted and ecologically sensitive areas such as the Atchafalaya Basin, as well as other wetlands through Louisiana."
Bayou Bridge is an under-construction pipeline designed to carry crude oil between Lake Charles and St. James. Proponents say it's easier and safer than other transfer methods and will bolster Louisiana's energy sector, while opponents worry about spills, especially into drinking water and environmentally-sensitive areas.
Energy Transfer Partners, the lead backer of Bayou Bridge, responded to the judgment with a brief statement. "We do not typically comment on pending or current litigation. We would like to reiterate, however, that we will continue to follow all of the stipulations of our permits, as we have always done," wrote spokeswoman Alexis Daniel.
Read the article online at: https://www.worldpipelines.com/project-news/11052018/further-setback-for-the-bayou-bridge-pipeline/
You might also like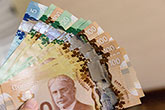 Trans Mountain Corp applies to regulators for tolls on its long-delayed 590 000 bpd pipeline expansion.