---
The unified natural gas and transmission operator Conexus Baltic Grid JSC (Conexus) informs that repairs in gas pipeline Vireši-Tallinn at Valmiera is an issue of gas supply security, because gas pipeline defects of high security are detected in the system which may cause emergency situations and gas supply interruption for Valmiera.
Conexus states that system users are informed in a timely manner of the planned repairs complying with the obligation of timely publishing of information stipulated in normative acts, including the interaction of gas transmission system operators with the aim to reduce the impact on capacities available to system users. Conexus arranges regularly planned meetings with system users, and has familiarised all system users with the planned repairs already in October 2019. The short-term restrictions do not stop completely the gas supply to Finland and Estonia, because both countries have alternative delivery routes.
The pipeline Vireši-Tallinn was constructed from 1988 to 1990, and pipelines with unsuccessful anticorrosion insulation solution were used during the construction process, which, according to experts, can function fully for a maximum of 15 years. Conexus regularly performs diagnostics of its pipeline and follows the whole gas supply network. The defects in the pipeline Vireši-Tallinn pose high risk and, if increasing the operating pressure in the gas pipeline, these defects can cause emergency situations and subsequent interruption of natural gas supply to Valmiera, and prevent Incukalns UGS to be used in natural gas supply to Estonia and Finland. If pipeline repairs are not performed, it would be necessary to continue reducing the operating pressure in the pipeline, and as a result the possibility of using it in supply to Estonia and Finland would be even smaller than in the winter season of 2019/20.
"We reckoned with [the fact] that the decision on repairs could create dissatisfaction, however business interests and security of Latvian gas supply system were put in scales. Our responsibility and duty is to guarantee the system security, so we cannot ignore the report on the condition of Vireši-Tallinn gas pipeline and faults established in it. Apart from the repairs, we can conduct an assessment of influence on the market which shows that May is the best time with the less impact on the market. This has also minimum influence on the pumping season, because Finnish consumers can use Balticconnector from June to plan their pumping activities. I ask all system users to treat responsibly the short-term operational rearrangements," informs Zane Kotane, Chairperson of the Board of Conexus.
Repairs are made within the framework of Latvia-Lithuania Interconnection Improvement (LLII) project which was included in the gas priority corridor of BEMIP (Baltic Energy Market Interconnection Plan) of KIP list adopted by European Commission on 24 November 2017. LLII project is an important element to supplement the internal energy market of European Union, so repairs of national scale are important, considering the course of other current infrastructure projects and their impact on the work of international transmission systems.
Repairs of gas pipeline Vireši-Tallinn will be commenced on 1 May, and the first stage is slated for completion on 31 May.
Read the article online at: https://www.worldpipelines.com/project-news/08042020/conexus-baltic-grid-to-go-ahead-with-pipeline-repairs/
You might also like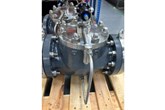 Oxford Flow expands its product range and grows market potential with new high- and low-pressure pilots.