---
The European gas pipeline link (EUGAL) has entered a new project phase in Saxony. The state authorities in Saxony have opened the planning approval procedure for both sections of EUGAL in Saxony with the participation of public interest bodies. The application documents for the pipeline project present, among other things, the exact plots of land required to build the pipeline, and determine and assess the specific impact on nature and the landscape, and also the possible impact on other protected resources.
Alongside the public interest bodies, such as towns and communities, an invitation will also be issued at a later date through official announcements to the citizens in those communities affected by the pipeline construction project. The application documents for the section in Chemnitz can be viewed from 11 December 2017 to 10 January 2018, the documents for the section further north will be on public display from 13 December 2017 to 19 January 2018.
Alongside the public interest bodies, this will also give the citizens the opportunity to express their thoughts and concerns regarding the project. The deadlines for the citizens for stating their objections and stances are 10 February 2018 (Chemnitz section) and 19 February 2018 (Dresden). The responsible planning approval authority will include the stances submitted by the competent authorities, communities and private individuals in their planning deliberations. The actual official planning approval decision will then mark the successful completion of the regional planning procedure in the around 110 km long section in Saxony and authorise the construction of the pipeline taking account of the legal provisions.
"Implementing a major infrastructure project like EUGAL can only succeed together with the population. Their participation in the planning approval procedure gives us the opportunity to receive other important information on the project," says Ludger Hümbs, Chief EUGAL Project Manager. In fall 2016 and spring 2017, the project team presented the plans for the natural gas pipeline to the general public in three towns and communities located along the Brandenburg section.
The EUGAL section in Saxony runs south from Lampertswalde (Meißen district) to Deutschneudorf (Erzgebirgskreis district) on the Czech border. In order to minimise the space required for this section, the pipeline will be laid as close as possible to the existing OPAL natural gas pipeline or third party pipelines. The pipeline will be able to annually transport up to 51 billion m3 of natural gas. With the new pipeline, GASCADE is responding to the growing demand for gas and gas transport capacity in Europe.
Read the article online at: https://www.worldpipelines.com/project-news/07122017/saxony-authorities-open-planning-approval-procedure-for-eugal/
You might also like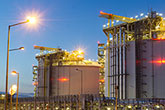 Prices pick up slightly but continue to remain deflated worldwide; prices did not respond as they did in 2022 despite disruption of gas pipeline supplies in Europe by multiple maintenance works.