---
Spectra Energy Corporation has almost completed the first two natural gas pipeline projects in New England since 2010.
On 1 November, Spectra placed part of the Algonquin Incremental Market (AIM) project into service, following the late-October approval from the Federal Energy Regulatory Commission (FERC). The remainder of the project is expected to be completed this month (December 2016). Spectra placed another pipeline project – Salem Lateral – into service on 28 October according to PointLogic Energy, but it is not expected to be used until June 2017.
The US$972 million AIM project will bring additional natural gas from the Appalachian Basin into New England. The project is the largest pipeline project since 2007 to transport natural gas into New England from outside the region. The pipeline will provide an additional 342 million ft3/d of pipeline capacity to the New England market.
The US$63 million Salem Lateral project will provide capacity for the Salem Harbour power plant, a converted coal-to-gas electric power plant due to be in service in June 2017. Once completed, the 674 MW power plant will use up to 115 million ft3/d of natural gas to generate electricity for New England consumers. The AIM project entered commercial service in November 2016 and added capacity to a constrained New England pipeline infrastructure system ahead of upcoming winter demand and ahead of the anticipated increase in demand from the Salem Lateral project.
The increase in pipeline capacity is expected to continue offsetting decreasing natural gas imports into New England. Liquefied natural gas (LNG) imports into New England have typically met a significant portion of natural gas demand, but they have declined because of a variety of market conditions, including demand for LNG from other markets, and the expiration of previous long-term LNG contracts. LNG shipments to the Algonquin Northeast Gateway Lateral project (built in 2007 to deliver regasified LNG into the metropolitan Boston and New England market) and shipments to the LNG terminal in Everett, Massachusetts (built in 1971) have decreased over the past several years.
For many years, some points along the natural gas pipelines in New England have reached full capacity utilisation rates during the winter months. The Algonquin gas transmission pipeline is the major pipeline delivering Appalachian gas into New England. Even as capacity has remained relatively flat, deliveries have been growing since 2010 because the pipeline has been operating at capacity for a longer portion of the winter season and higher levels of summer use. Over the past several years, natural gas flows through the Stony Point compressor station – a key entry point for natural gas destined for New England – have reached their operating capacity throughout the year, even in non-winter months.
New England natural gas pipeline constraints have contributed to relatively volatile natural gas spot prices. Average monthly natural gas prices at the Algonquin Citygate, a trading hub indicative of Boston wholesale natural gas prices, reached US$15 per million British thermal units (Btu) during the winters of 2013 and 2015 and US$25 per million Btu during the winter of 2014.
For the nation as a whole, 10 US natural gas pipeline projects have been completed or are expected to be completed before the end of 2016. In all, nearly 5.9 billion ft3/d of additional pipeline capacity will be placed in-service throughout 2016.
Read the article online at: https://www.worldpipelines.com/project-news/07122016/an-increase-in-capacity-for-new-england-pipeline/
You might also like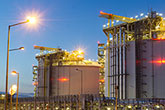 Prices pick up slightly but continue to remain deflated worldwide; prices did not respond as they did in 2022 despite disruption of gas pipeline supplies in Europe by multiple maintenance works.