The construction of the Trans Adriatic pipeline (TAP) in Greece continues to progress on time, on track and on budget. Thanks to the efforts of over 3100 people working on the project, work is now underway in all three northern Greek prefectures to be traversed by the pipeline: eastern Macedonia-Thrace, central Macedonia and – most recently – western Macedonia, where construction commenced in Pirgoi at the Eordaia municipality in late June. In addition, the concrete foundation has been laid for the pipeline's gas compressor station in Kipoi, Evros.
To read the full article
"TAP in Greece: progressing on track, on time and on budget"
Please sign in or become a member for FREE
Sign in » Become a member »
Get started absolutely FREE in 2 minutes, plus receive a free printed magazine.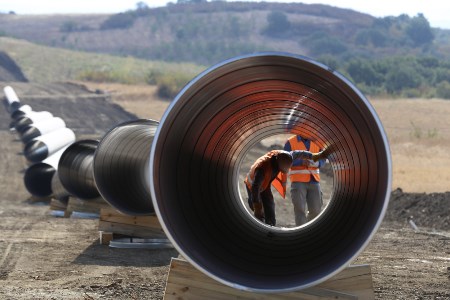 As of the end of June 2017, out of the approximately 550 km of pipeline to be built in Greece, TAP's contractors have already:
Received more than 75% of the total 32 000 line pipes to be used for the pipeline's Greek section.
Cleared and graded 331 km of the route.
Strung 304 km of pipeline.
Welded approximately 280 km of the mainline.
At the same time, 227 km of trench have been opened; 198 km of pipeline have been lowered into the trench; 183 km has been backfilled; and 94 km of land is being reinstated.
The Head of the western Macedonia prefecture, Theodoros Karypidis, said: "Works have started for the construction of TAP in the prefecture of western Macedonia. This means that the first step has been made in our area for the implementation of a project of great geostrategic importance, bringing multiple benefits to local communities. For this reason, the prefecture is closely collaborating with TAP AG on all levels in order to ensure safe works and their timely completion."
TAP AG's Country Manager for Greece, Rikard Scoufias, noted: "TAP is now being constructed in all three prefectures to be traversed by the pipeline. Thanks to our excellent collaboration with all competent authorities, and the dedicated work of our people, construction progresses safely and efficiently across northern Greece. From the east and Evros, where we laid the foundation for the compressor station – to the west and Eordaia, where we have just started construction."
As TAP's construction continues, the direct benefits arising for the local host communities, as well as the country in general, are also becoming progressively more evident.
With regard to its €32 million social and environmental investment (SEI) programme, TAP AG recently announced a €9 million investment for the purchase of 92 utility vehicles to be donated to local communities in northern Greece: 33 ambulances, garbage trucks, 17 forestry vehicles, 14 snowploughs; and six civil protection vehicles.
This commitment is added to the 47 SEI initiatives that TAP AG already supports in all three northern Greek prefectures, their total value amounting to approximately €1.3 million. As per TAP AG's SEI strategy and selection pillars, already implemented initiatives include:
30 projects supporting improved quality of life for communities located along the routing of the pipeline.
Six projects enhancing the livelihoods of local residents.
Six projects enabling the cultivation of improved skills and abilities via education and training.
Five projects contributing to the improvement of environmental management.
Read the article online at: https://www.worldpipelines.com/project-news/07072017/tap-in-greece-progressing-on-track-on-time-and-on-budget/