---
The Algerian national oil company Sonatrach successfully proceeded on 2 April 2020 to gas the GR7 pipeline, between El Menia (Adrar) and Hassi R'mel (Laghouat), a company statement said on 4 April.
"Sonatrach successfully proceeded on 2 April 2020 to gas the GR7 / 48 gas pipeline, which is an expansion of the STC GR5, with a length of 344 km, connecting the N 4 switching station (PC4) located at El Menia in the wilaya of Adrar at the N7 Cutting Station of Hassi R'mel in the wilaya of Laghouat", specified the company.
The construction work took place in 'very good conditions', according to the same source, who points out that the project was carried out to receive collections from the new South West fields (Hassi Mouina Sud & Nord and Hassi Ba Hamou) and transport them to the National Dispatching Centre Gazde Hassi R'mel (CNDG).
The realisation of the GR7 gas pipeline is the fruit of a 100% Algerian consortium, recalls Sonatrach, by specifying that the construction of the structure was completely entrusted to Algerian companies, in this case COSIDER Canalisations and ENAC, the tubes intended for the construction were manufactured by ALFAPIPE, while the control and monitoring of the manufacturing process were carried out by GTP.
This pipeline, with a design capacity of 4 billion m3/yr, will make it possible to increase the capacity in natural gas of Sonatrach on the transport system by pipeline of the Reggane - Hassi R'mel Pipeline (GR5) to approximately 13 billion m3/yr.
Read the article online at: https://www.worldpipelines.com/project-news/07042020/sonatrach-announce-filling-of-gr7-gas-pipeline/
You might also like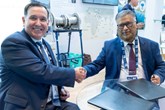 The partnership is to bring critical flange isolation offerings for the Kingdom of Saudi Arabia.