---
At the end of July 2018, the Trans Adriatic Pipeline (TAP) completed the construction of the 1.5 km micro-tunnel in Skrapar, Albania. The micro-tunnel was built in approximately six months after works started in February 2018.
The 1.5 km micro-tunnel crosses a challenging mountainous segment and connects the eastern and the western TAP pipeline segments.
TAP's contractor Spiecapag and TAP subcontractor Bessac were able to complete the micro-tunnel construction within schedule and to a high-level of accuracy. A total of 50 local workers were engaged in 24 hr shifts for this challenging engineering undertaking.
The micro-tunnel was constructed using the latest technology, which guarantees technical safety and minimal environmental impact. The 1.8 m diameter micro-tunnel avoids the pipeline crossing the Osumi valley and a newly built road, minimising impact on local communities.
The Çorovoda micro-tunnel was constructed in two phases:
The eastern segment measures 560 m and was completed at the end of April 2018.
The western segment, with a length of 600 m.
Skrapar's landscape poses many challenges to the pipeline construction, given the 2100 m above sea level elevation, its geological composition and the difficult terrain with numerous steep slopes.
Following the tunnel boring tradition, the state-of-the-art boring machine used was given a name, specifically 'Karl Gega', in honour of one of the most renowned transport and infrastructure engineers in Europe.
The successful completion of the 1.5 km micro-tunnel is one of TAP's main technical achievements in Albania. The importance of this milestone was also noted in February 2018, when the Deputy Minister of Infrastructure and Energy, Enis Aliko, the Skrapar Mayor, Nesim Spahiu as well as high-level TAP representatives and its contractors marked the start of this project.
Image courtesy of TAP.
Read the article online at: https://www.worldpipelines.com/project-news/02082018/tap-completes-pipeline-connecting-micro-tunnel/
You might also like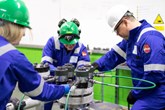 3t EnerMech named regional winner at top engineering awards for the second year in a row.