---
NACE International Institute is proud to announce the release of its innovative IMPACT PLUS corrosion management product – the world's first platform to benchmark practices and improve corrosion management. This one-of-a-kind platform is designed to advance corrosion management performance across all industry sectors, from pipelines and bridges to maritime and defense systems, and beyond. Built as a tool for management professionals, the program balances technical and business solutions by utilising process classification frameworks, maturity models and benchmarking expertise.
IMPACT PLUS is the next step in improving safety and reducing the exorbitant cost of corrosion, which was outlined in the 2015 IMPACT Study. The IMPACT Study illuminated the necessity of maintaining a corrosion management plan and received broad support worldwide.
"Soon after we released the IMPACT Study we began to hear from respondents and focus group participants that they needed tools to put the report's findings into practice," said Elaine Bowman, NACE Past President and IMPACT PLUS Project Manager. "They couldn't find any products to facilitate improved practices, and asked us to develop a process that would help their companies manage, monitor and improve their corrosion management activities."
Working with APQC (American Productivity and Quality Center) the world's foremost authority in benchmarking, best practices, process and performance improvement and knowledge management – the NACE Institute developed IMPACT PLUS as an online network of tools, including a customised corrosion management process classification framework, corrosion management maturity model and an extensive reference library.
"We built a team of proven industry experts to design the IMPACT PLUS portal and its associated product suite," said Chris M. Fowler, President of the NACE International Institute. "From the start, we knew we were pioneering something that will have lasting effects on corrosion management worldwide, so we created a program that is capable of continuous advancement and customisation."
IMPACT PLUS users have the option to manage their own use of the product or use a trained navigator with corrosion management and consulting expertise. Navigators will help customers evaluate and compare their current asset management strategies and advise them on future asset protection and corrosion management strategies.
Features of the IMPACT PLUS portal include:
An integrated platform for corrosion management professionals seeking to move their company to higher levels of performance.
A common language and structure needed to ensure communication throughout all levels of an organisation.
A straightforward way for companies to identify gaps in processes that could lead to the reduced lifecycle of assets due to mechanical, integrity or human error.
A Corrosion Management Maturity Model which creates a roadmap of activities, investments and best practices that lead to higher performance.
A reference library to manage knowledge and information collected through all components of the portal.
Read the article online at: https://www.worldpipelines.com/product-news/29032018/nace-unveils-new-corrosion-management-tool/
You might also like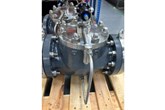 Oxford Flow expands its product range and grows market potential with new high- and low-pressure pilots.