---
Prime Horizontal has introduced the latest in a long line of innovations for the HDD market, a guidance tool for high accuracy: the ParaTrack Gyro Module. With no concern of magnetic interference from nearby active utility lines, shore piles, ship traffic or any other transportation activity, drilling may be carried out confidently, regardless of surrounding conditions. The ParaTrack Gyro Module runs in conjunction with the ParaTrack Steering Tool, providing the ability to tie in with the entire ParaTrack system of tools and software.
The ParaTrack Gyro Module is a north seeking gyro system that is especially effective for initial surface entry, while absolute position may then be verified via the ParaTrack-2 Guide Wire or Beacon Tracker, providing confidence that the bore is measured accurately along the bore path as well as relative to the planned exit location prior to punch out.
Using the Gyro Module, Prime Horizontal can handle vibrational and magnetic interference much better than in the past. Separate shock absorbing tools are unnecessary.
The tool is designed to be ideal for intersects in areas with no surface coil. There is no need for calibration every two hours and there are no issues with import and export into various countries as the Gyro can be carried by hand and transported easily in a rifle case.
Since the company's beginnings in 1998, Prime Horizontal has been a World Record holder for the longest HDD projects; highly accurate pilot holes in freeze hole drilling applications; with more than 200 HDD intersects and more than 400 CBM bores successfully performed with the use of a rotating magnet ranging system (RMRS).
Prime Horizontal strives to be number one in meeting project accuracy requirements, and global customers rely on the company's know-how to successfully complete a full range of HDD intersect drilling and CBM projects, using over 20 years of experience. Whether this requires guidance services, downhole tooling, rig data recording systems, automatic mud viscosity measuring systems or bespoke developments, Prime Horizontal has a dedicated team to support any HDD and CBM needs.
Read the article online at: https://www.worldpipelines.com/product-news/28012020/prime-horizontal-releases-guidance-tool-for-hdd-market/
You might also like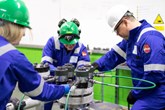 3t EnerMech named regional winner at top engineering awards for the second year in a row.