---
The new mobile NivuFlow Mobile 600 flow transmitter has been developed particularly for long term measurements in full pipelines.
Very high endurance is achieved thanks to energy efficient algorithms, performance optimised sensors and high capacity rechargeable batteries. Utilising a five min. cycle for measuring and recording, it is possible to measure up to one year without battery replacement. Featuring 182 000 storage cycles, the internal data memory is conceived for even longer measurement periods. Contactless clamp-on sensors and pipe sensors for direct measurement in the medium are available. Both sensor types share quick and easy mounting without the need to shut down running processes. The clamp-on sensors do not have any medium contact and are clamped onto the pipe outside.
Thanks to the high protection rating of sensors and transmitter (IP68) it is possible to operate the measurement system even under harsh ambient conditions. For example, batteries can be replaced by the operator even during heavy rain. This ensures uninterrupted measurements even for long term projects.
The transmitter is controlled on site by using smart terminal devices such as smartphones, tablets or notebooks. Connection is set up using a WLAN created by the transmitter itself. No plug-ins or apps need to be installed to operate the system. During poor weather conditions, in strong sunlight or in case of limited access to the measurement site, it is hence possible to operate the instrument from protected areas such as service vehicles etc.
Typical NivuFlow Mobile 600 applications are: leakage detection, heat quantity measurement, pump verification, water supply monitoring, monitoring of inlets and outlets conducting cooling water or circulation systems, as well as monitoring of process water and service water.
Read the article online at: https://www.worldpipelines.com/product-news/27022018/self-sufficient-and-contactless-flow-metering/
You might also like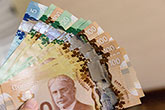 Trans Mountain Corp applies to regulators for tolls on its long-delayed 590 000 bpd pipeline expansion.