---
Clock Spring Company, Inc., a manufacturer of highly innovative and engineered products for the repair and rehabilitation of pipe-based critical infrastructure, is expanding its product line with the introduction of the patented Full Metal Gasket™, delivering a permanent, zero-emissions, non-leaking seal.
"As we introduce creative solutions for maintaining the reliability of critical infrastructure, our continuing focus is on safety and environmental responsibility," says Clock Spring CEO and President Matthew Boucher. "The design of our metal-to-metal gasket is elegant in its simplicity, maintaining zero-emissions integrity under exacting conditions. And like all Clock Spring products, it is easy to install and cost-effective to deploy across a broad range of applications."
The Clock Spring Full Metal Gasket is the world's only DNV GL type approved gasket for zero emissions. The CNC-milled gasket is manufactured from a single block of metal using the same material as the surrounding pipe and flange, so it shares identical characteristics and is able to expand and contract in line with the adjoining infrastructure to maintain a permanent, zero-emissions, non-leaking seal.
The innovative gasket design addresses a problem that bolted flanges cannot. Traditional gaskets leak when the material contained in the system escapes through the pores of the gasket material. Studies show that seals between flanges are among the weakest components of piping connections, resulting in production and productivity loss and higher operational costs. The Full Metal Gasket eliminates the piping system's weakest link, delivering sealing technology with unrivalled effectiveness.
The gasket design includes specially milled ridges that make up the metal-to-metal seal. The ridges deform according to the surface of the flange and seal a 0.3 mm groove. Compression produced by the V-shaped rings that create the seal make installation easy, reducing the torque required to tighten the flange by almost 70%. When traditional bolted gasket joints are tightened excessively, the seal is often compromised. The Full Metal Gasket provides the same exceptional performance even when overtightened, controlling emissions and eliminating the likelihood of penalties and fines.
Vice President of Manufacturing, Amit Chaudhary, says the gasket's reliability in exacting environments has the potential to deliver enormous advantages.
"While many gaskets fail in extremely hot or cold conditions, the sealing capacity of this gasket reduces fugitive emissions in temperatures from -138°C (-216°F) to 650°C (1202°F), delivering gas-tight reliability 10 000 times greater than the oil and gas industry requirement," he says.
This addition to the Clock Spring product line is significant because it provides enormous safety benefits for industry. "The gasket's exceptional performance vastly reduces the likelihood of an emissions-related environmental incident," Chaudhary says.
Read the article online at: https://www.worldpipelines.com/product-news/25102018/clock-spring-introduces-zero-emission-gasket/
You might also like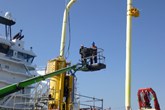 AIS awarded another custom coating project offshore Brazil.