---
Technical Toolboxes, the leading global provider of integrated and cloud-based pipeline software, consulting and industry training for pipeline engineering and technical professionals, has launched its new Horizontal Directional Drilling Power Tool (HDDPT).
The HDDPT, an advanced software solution for horizontal drilling projects, enables safe and efficient pipeline drilling, reaming and installation at road crossings, bodies of water and railroad right of ways. The HDDPT applies to the design and construction phases of a pipeline and is engineered to successfully execute projects through design insight and planning, minimising excavation complexity, lowering costs, preventing borehole collapse and monitoring drilling or pulling operations.
The product adds value in various applications including natural gas, petroleum, water and sewer lines, telecommunications and electric power lines.
Drew Lafleur, Chief Technology Officer, Technical Toolboxes, said, "The HDDPT builds on the success of our Horizontal Directional Drilling Toolbox (HDDTB) software. Our HDDPT however, features greatly improved functionality, including geographic information systems (GIS) and integration. We are very excited to see the HDDPT establish itself as a valuable asset in the field."
Read the article online at: https://www.worldpipelines.com/product-news/24072018/technical-toolboxes-launches-new-horizontal-directional-drilling-power-tool/
You might also like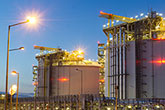 Prices pick up slightly but continue to remain deflated worldwide; prices did not respond as they did in 2022 despite disruption of gas pipeline supplies in Europe by multiple maintenance works.