---
DuPont has announced it is launching Kalrez® OG193 perfluoroelastomers, a 95 durometer, FFKM compound that exhibits an excellent balance of properties for oil and gas applications. Kalrez® OG193 combines best-in-class Rapid Gas Decompression (RGD) performance and chemical resistance with good low temperature and thermal stability. It passes the acceptance criteria for multiphase sour ageing according to ISO23936-2 and scores the highest rating at the Rapid Gas decompression test. It is an ideal fit for various applications in both upstream and downstream, such as oilfield production/completion equipment, wireline and drilling tools, pumps, mechanical seals, valves, compressors and more.
"Kalrez® OG193 is the perfect choice for all energy applications where compromising perfluoroelastomers' performance is not an option," said William Braule, application engineer for Kalrez®. "With this product, we can welcome a new era in Oil & Gas sealing performance that enables our customers to continue to innovate and meet evolving performance expectations in the most extreme environmental conditions."
With oil production being pushed into more extreme conditions and harsher environments, there is limited margin for error, considering the high costs associated to unplanned downtime. Manufacturers, contractors and well operators need to operate with equipment purposefully developed to resist harsh environments and offer a margin for safety. Choices must be made around selecting perfluoroelastomers based on their high chemical resistance vs. low temperature performance. Kalrez® OG193 Perfluoroelastomer offers versatility without compromise for a variety of key parts including O-rings, packers, bonded seals, chevron stacks, T-Seals, and many other applications including production and completion equipment, pumps, valves, compressors and mechanical seals.
"We are excited to continue to expand our best-in-class Kalrez® products into the energy sector," said Donna MacSwain-Santos, Global Marketing Manager for the Industrial Segment. "We are committed to developing innovative products for the Oil & Gas industry that also support our customers' transition into alternative energy production."
DuPont will exhibit at the AMI Oil & Gas Non-Metallics conference, October 26 - 27 in London, UK. William Braule will be participating in an Interactive Panel Discussion, "Supercritical CO2 – effects on polymers, challenges and solutions" scheduled for 11:20 a.m. GMT on Wednesday, 27 October, 2021. Kalrez® OG193 Perfluoroelastomer is now available for sampling and sale.
Read the article online at: https://www.worldpipelines.com/product-news/22102021/dupont-launches-new-kalrez-og193-perfluoroelastomer-product/
You might also like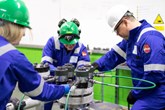 3t EnerMech named regional winner at top engineering awards for the second year in a row.