Producing zero colour tube and pipe welds when joining metals such as stainless, duplex and chrome steels, titanium and zirconium can be challenging and, at times, can prove costly. In many industries today the welding zone has to be purged of oxygen down as low as 100 ppm.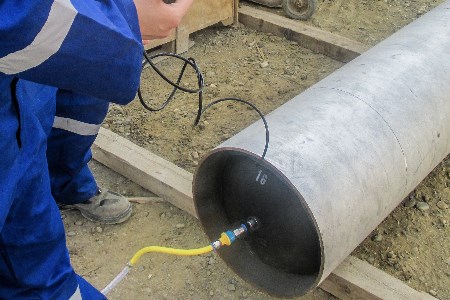 The tubes and pipes must be free from oxidation and discolouration to produce metallurgically sound welds and prevent corrosion and in addition, be welded with a good internal profile to prevent entrapment.
It most cases, it is not cost-effective to fill entire tubes and pipes with an inert gas before, during and after welding. To overcome these challenges, Huntingdon Fusion Techniques HFT® has introduced PurgElite®, a range of low cost tube and pipe purging systems, designed to drastically reduce the purging zone, saving welders both time and wasted inert gas costs.
Luke Keane, Distributor Support for HFT, said: "To save welders the expense of completely filling tubes and pipes with an inert gas, PurgElite systems are available, manufactured to suit pipe diameters from 1 - 24 in. (25 - 600 mm). PurgElite is manufactured with a special spinal tube that is resistant to hot metal up to 300ºC (572ºF) and is super flexible to allow movement around 180º bends if necessary. These spinal tubes are made of low outgassing rate materials, so there is no risk of weld contamination."
"We recently had a customer who was wasting a lot of money in time and argon gas costs by filling entire pipework fabrications with argon in order to weld the stainless steel pipes in an inert environment. There were several 90º bends in the pipework, so the customer thought filling the whole pipework system was the only option."
Each PurgElite features IntaCal®, a purge gas feed device, which means there is no complicated valve to adjust and set. A centrepiece glow positioning indicator RootGlo® comes as standard to ensure the system can be positioned accurately inside the tube or pipe.
HFT's innovative PurgeGate valve is available as an accessory, a unique one way valve suitable for all types of inflatable pipe weld purging systems. PurgeGate regulates the gas flow and pressure during weld purging to prevent the dams from over inflating and bursting.
Quick connect/disconnect fittings with collets and 'O' ring seals for gas tight sealing, fitted with anti-release circlip are fitted to all Systems to prevent parts accidentally separating inside pipes.
Heat resistant covers with a rating up to a temperature of 300ºC are available as accessories to protect the inflatable dams. These are attached with ties sewn into the covers.
There are many fabricators still using homemade devices fashioned from foam, wood, metal and rubber. They are wasting vast amounts of money on expensive argon gas and labour by allowing their welders to continue in their old ways. By using PurgElite tube and pipe purging systems companies can save significant money in both time and inert gas costs.
HFT offer a live demonstration where required and they can send a return on investment chart to show you how quickly it pays to use up to date technology from the very first weld.
Read the article online at: https://www.worldpipelines.com/product-news/22062017/hft-overcomes-zero-colour-weld-challenges-with-inflatable-pipe-purging-systems/