---
Eddyfi Technologies is proud to announce the latest release of M2M Capture. Natively embedded on both M2M Gekko and M2M Mantis PAUT flaw detectors, Capture v2.3 offers new advanced features and dedicated tools to improve the user experience and speed up NDT inspection. Released twice a year, Capture software is an evolutive platform combining state-of-the art technologies and highly intuitive interface to answer new market challenges.
On this latest upgrade, M2M introduces significant improvements required by customers. New applicative setups and tools now facilitate the corrosion mapping and composite inspection, and a complete set of analysis tools for TOFD inspections is available. Capture v2.3 offers unparalleled possibilities with the new fast Total Focusing Method mode, now 3.5 times faster while maintaining maximum resolution; or with the new calibration wizards for curved wedges (AOD/COD) for long seam inspection.
"This new v2.3 version maintains innovation at a top level, says Grégoire Benoist, Portable Line Product Manager. The R&D team dedicated to Capture and the software developers work continuously to target new application cases, improve usability and make the setup creation and analysis faster."
Capture is one of the key successes of the PAUT flaw detector Gekko and Mantis. Capture offers field operators a smart interface allowing a great ease of use of standard (PE, TOFD, PA) and advanced techniques such as TFM. TFM is a highly advanced PAUT techniques over the last decade, that allows better flaw detection as well as easier defect characterisation.
About Eddyfi Technologies
Eddyfi Technologies maximises the potential of multiple advanced NDT inspection technologies. It focuses on offering high-performance NDT solutions for the inspection of critical components and assets through its complementary brands and product lines: Eddyfi, Silverwing, Teletest, TSC, and M2M. Eddyfi Technologies serves customers in more than 80 countries in such major industries as power generation, oil and gas, aerospace, and manufacturing. The group employs more than 320 people and leverages nine centres of excellence and sales offices worldwide, all staffed by NDT experts.
Read the article online at: https://www.worldpipelines.com/product-news/21122018/eddyfi-technologies-releases-m2m-capture/
You might also like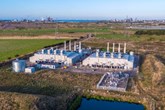 This is the first customer that has been announced for Kellas Midstream's H2NorthEast Teesside hydrogen project.