---
Emerson has announced the new Rosemount™ XE10 Continuous Emissions Monitoring System (CEMS), which is designed to help industrial plants meet increasingly stringent environmental regulations and evolving sustainability demands. With its built-in performance analytics and automated validation capabilities, the new system ensures accurate emissions monitoring and reporting to help plant operators reduce the risk of non-compliance shutdowns and penalties.
Designed for rapid deployment, the new system is a compact and standardised solution certified to the European standards EN 14181 and EN 15267, which govern the quality assurance requirements for automated measurement systems of stationary source emissions. The system also complies with the emissions reporting requirements of the US Environmental Protection Agency.
"Real-time data reporting and quality assurance are critical to regulatory compliance," said Iain Howieson, vice president and general manager for Emerson's gas analysis business. "The new Rosemount XE10 CEMS is equipped with fully automated calibration to facilitate drift checks. This ensures reliability and helps operators prove to regulators that the ongoing operational performance of the system meets the mandated quality assurance requirements, such as the Quality Assurance Level 3 test of the EN 14181 standard, which saves operators time and money and gives them the peace of mind for continuous, reliable monitoring of emissions."
The XE10 CEMS also provides simplified web-based access to built-in performance analytics, enabling visualisation of actionable process information for faster and smarter decision-making. This empowers plant operators to shift their strategy from reactive to proactive environmental compliance.
As a modular, integrated emissions monitoring system, the Rosemount XE10 is simple and fast to configure and comes complete with a gas sampling and conditioning system and up to three gas analyser modules. Each module can accommodate different measurement ranges for different gas components, including CO, NOx, SO2, CO2, and O2.
To reduce risk and complexity, the system is backed by an integrated service approach that provides end-to-end support, including start-up and commissioning, installation in accordance with regulatory assurance standards, and support for the mandated annual surveillance tests to verify the continuing validity of the system's calibration function.
The XE10 CEMS is the latest example of Emerson's commitment to helping customers navigate environmental and regulatory challenges as part of an overarching environmental sustainability framework, an approach that includes supporting industrial manufacturers with the deployment of low-carbon fuels and power sources, reducing emissions leakage, improving energy and resource efficiency, and decreasing waste.
Read the article online at: https://www.worldpipelines.com/product-news/21092021/emersons-announces-new-emissions-monitoring-system/
You might also like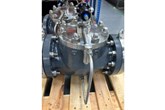 Oxford Flow expands its product range and grows market potential with new high- and low-pressure pilots.