---
Wanner has launched the Hydra-Cell® T200 Series Medium Pressure, multi-diaphragm pump range, which in terms of flowrate and pressure are the highest performing pumps in the Hydra-Cell range and the biggest pumps ever produced by the Company. They feature a seal-less design that eliminates leaks, hazards and the expense associated with seals and packing; lowering the cost of ownership and giving a longer service life than competitive pumping technologies.
There are two models, currently, in the T200 Series, rated at 207 bar (3000 psi) and 241 bar (3500 psi) with maximum flows of 387 l./min (102.2 US gpm) and 349 l./min (92.4 US gpm) respectively. The new pumps are ideal for oil and gas production, mining operations, boiler feed and high-pressure cleaning, along with chemical and petrochemical process and transfer applications.
Hydra-Cell pumps have no dynamic seals, cups or packing to leak, wear or replace, eliminating seal maintenance costs while hazardous materials and VOCs (volatile organic compounds) are fully contained. The seal-less design, combined with robust check valves, also enable the pump to handle abrasive particles up to 800 microns in size and with less wear than gear, screw or plunger pumps.
The Hydra-Cell T200 can operate with a closed or blocked suction line and can run dry indefinitely without damage, eliminating downtime and repair costs. With energy costs becoming an ever-increasing element in overall operational cost the T200's low energy consumption, in relation to performance, will contribute significantly to its claim of having the lowest cost of ownership.
Read the article online at: https://www.worldpipelines.com/product-news/20022019/wanner-launches-new-pump-range/
You might also like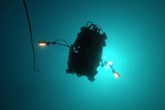 Voyis and Deep Trekker, have joined forces to achieve the successful fusion of Voyis' Discovery Camera with Deep Trekker's REVOLUTION ROV.