---
CSNRI has streamlined its offering of high-quality composite repair solutions, to better align with today's pipeline owner integrity challenges and regulatory requirements.
The company is the world's leading manufacturer of highly innovative, engineered products for the repair and rehabilitation of critical infrastructure. Its research and development team has focused its product development efforts on pinpointing and perfecting a streamlined range of solutions while increasing the far-reaching applications that can be addressed.
"By streamlining our range of products, we make it easier for our engineering and integrity advisors to select the best solution to solve today's customer's problems – from upstream gathering or subsea lines to midstream large-diameter lines, tanks, terminals, and process piping. The new portfolio comes with the most extensive testing data in the industry and over 30 years of proven track record," said CSNRI President Cedric Oudinot.
"Our teams have also focused their efforts on unmatched testing and engineering designs to find solutions related to a much broader range of defects, operating parameters, and chemical compatibility than ever before. In addition, a simplified portfolio will enable our partners and customers to store fewer products to improve availability of supply and improve economics of the installed solutions", he continued.
CSNRI composite solutions address pipeline anomalies from metal loss and small deformations to large deformations, crack/crack-like features, as well as damage to process piping working in the range of -58°F to 730°F (-50°C to 388°C).
Oudinot concluded: "When faced with unpredictable integrity challenges, we understand that having easy and fast access to solutions is just as important as having access to the industry's best technology. Consolidating our product options enables our engineers to work with customers to reduce the time between the identification of the defect to the delivery of the solution, mitigate damage to valuable assets, restore safe working environments for personnel, and protect the environment."
Read the latest issue of World Pipelines magazine for pipeline news, project stories, industry insight and technical articles.
World Pipelines' May 2021 issue
The May issue of World Pipelines includes a regional report on Canada's oil and gas sector, as well as technical articles on integrity management software, leak detection, NDT, and project case studies. Don't miss our feature on young pipeliners, in which World Pipelines' Senior Editor Elizabeth Corner interviews the winners of the John Tiratsoo Award for Young Achievement, awarded by Young Pipeliners International, in partnership with PPIM.
Read the article online at: https://www.worldpipelines.com/product-news/18052021/csnri-streamlines-composite-repair-offering/
You might also like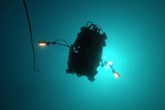 Voyis and Deep Trekker, have joined forces to achieve the successful fusion of Voyis' Discovery Camera with Deep Trekker's REVOLUTION ROV.