Waygate Technologies launches new portable X-ray detectors for NDT and industrial inspection
Published by Aimee Knight, Editorial Assistant
World Pipelines,
---
Waygate Technologies (formerly GE Inspection Technologies), a world leader in industrial inspection solutions, has launched two new portable X-ray detectors from their digital X-ray family DXR to ensure the safety, quality and productivity of their customers' complex products and processes. The direct radiography detectors DXR140P-HC and DXR75P-HR combine the latest technological advances with extensive customer feedback and guarantee high-quality, efficient imaging as well as thorough protection for use in harsh environments. Both devices can now be ordered for product demonstrations.
The DXR140P-HC detector comes with a large 14 in. x 17 in. high contrast imager with 140-micron pixel resolution and can be deployed for corrosion monitoring in the energy, infrastructure, and oil & gas industries. It can be used with X-ray as well as isotopes, while its increased dose sensitivity allows shorter exposure times and faster throughput. The smaller DXR75P-HR boasts a 75-micron pixel resolution required to distinguish fine details for critical applications. It supports ISO 17636-2 class B for weld inspection, offering precision imaging that meets the most stringent standards. With a 7 in. x 9 in. detector, it is ideal for settings with limited detector positioning freedom such as boiler, pressure tubes, vessels and storage tank environments. Both detectors can be operated either wired or wireless with a range of up to 100 meters, depending on the situational requirements.
The new DXR detectors are among the first products that the industrial inspection solutions company is launching under its new brand Waygate Technologies. The world leader in NDT changed its name in February 2020 after former parent company GE reduced its majority share in Baker Hughes in 2019. Today, Waygate Technologies is part of Baker Hughes' Digital Solutions segment and is fully focused on providing the best industrial detection performance and driving innovations and digital transformation for its customers.
Read the article online at: https://www.worldpipelines.com/product-news/17082020/waygate-technologies-launches-new-portable-x-ray-detectors-for-ndt-and-industrial-inspection/
You might also like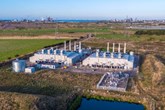 This is the first customer that has been announced for Kellas Midstream's H2NorthEast Teesside hydrogen project.