---
Amine Optimization Company has introduced a new advanced technology for reducing foam in pipelines. AO-21 Pipeline Foam Reducer was specially created to prevent foaming agents from entering a processing plant. Foaming contaminants usually enter plants after pipelines are pigged causing contaminant ingression and severe upsets in process units such as amine and glycol units. AO-21 is thermally stable to eliminate any possible interaction with the process, and has a unique molecular architecture that is efficient for pipeline applications.
AO-21 Pipeline Foam Reducer is the latest creation added to Amine Optimization's product line for amine units. This is an addition to the antifoam products for amine units. Each antifoam for amine units eliminates foaming with minimum dosage and no foam return if accidentally overdosed. All products are fully compatible with all generic and proprietary amine blended solvents and are thermally stable to eliminate possible interactions with the process.
Read the article online at: https://www.worldpipelines.com/product-news/13122019/pipeline-foam-reducing-technology/
You might also like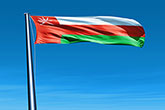 Oman's OQ Gas Networks announces price for gas pipeline business IPO.