---
Incorporating the M&J Valve® and Copes-Vulcan® brands, SPX FLOW has long served the oil, gas and power industries with a huge range of valves designed to offer reliable, safe performance in even the most critical of applications. The company's valves portfolio includes Danflo surge relief valves for pipeline protection against surge, slab and expanding gate valves for pipeline isolation, 4-way diverter valves for bi-direction provers, turbine bypass valves, desuperheaters, general and severe duty control valves for power plants. All are precisely engineered and incorporate innovative features to help address challenges faced in the oil, gas and power industries.
Offering high flow capacities and exceptionally fast response times, the M&J Valve DANFLO surge relief valves are engineered to track unabated surge-wave pressure transients, opening quickly and then closing without slamming shut. The valves can be gas-loaded or pilot operated. Both types of surge relief valves actuate in 100 ms and completely open in 250 ms, thus diverting the required flow fast enough to keep the pipeline pressure well below the set point.
Proven in a wide range of demanding isolation applications, M&J expanding gate (EG) valves provide a superior bi-directional mechanical seal by using a two-piece gate assembly which expands against the seating areas in the open or closed position. The seal becomes tighter with increasing torque, resulting in reliable, heat resistant sealing independent of line pressure or vibration.
M&J EG valves have double block and bleed capabilities and seal at low and high line pressure. They offer long, leak-free service with a protected seat design to extend valve life. The valves have a full bore through conduit to minimise pressure drop and turbulence in the line. They are specifically engineered for easy operation, with low operating torque and visual position indication. Straight forward maintenance is also assured as the stem packing does not require lubrication, the valve can be overhauled in-line, and top entry access to all internals is provided. They are ideal for use in applications such as meter bypass, pig launch/receiver traps, hot tap, manifolds, tanks, stations and as mainline block valves.
The M&J Valve M-303 is an advance fabricated body slab gate valve for pipeline isolation, manufactured and tested as per API 6D specification. The fabricated body allows wider selection of material choices. Available in sizes from 2 - 84 in. with pressure class from 150 to 2500. Ease of maintenance and versatility makes the M-303 a preferred choice of slab gate valve in the market.
The advanced Copes-Vulcan RAVEN™ trim control valves are designed to rapidly reduce flow velocities and are proven to provide true velocity control in severe service applications. Engineered to prevent erosion, vibration, poor control and cavitation, problems typically associated with high velocity applications, the RAVEN trims limit fluid velocities at the exit of the trim. The valves are available as general service or severe duty models and are suited for a wide range of power, petrochemical, boiler feed, pipeline and gas transportation applications and offer users reduced noise, resistance to the effects of blockage and long, reliable, high velocity performance.
The low velocity achieved by the RAVEN trim is achieved using a trim cage which is made from a series of individual discs that have been bonded together. Every trim is custom designed to meet the needs of the toughest liquid, steam and gas services in the power and process industries. Each of the discs has a precisely manufactured pattern of orifices and channels with a multitude of sharp turns. As the trim's plug travels with the cage, the fluid is forced to travel this extremely torturous path, with each turn effecting a stage of pressure drop. The precision of the trim manufacture provides extremely accurate pressure drop and its design inherently allows for more stages of pressure drop compared with conventional torturous path trims.
Copes Vulcan DSCV-SA (direct steam converting valves-steam atomisation) is a Turbine By-Pass valve designed for unprecedented operations and reliability, available in ANSI 150 to 4500 pressure class. It eliminates potential risks associated with sub-standard designs during plant start up, shutdown and turbine trips. It is a preferred choice in steam conditioning applications, with variety of trim options for noise control, and repeatable tight class V shut off.
Read the article online at: https://www.worldpipelines.com/product-news/13112018/valves-for-critical-oil-and-gas-applications/
You might also like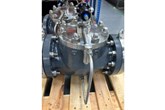 Oxford Flow expands its product range and grows market potential with new high- and low-pressure pilots.