---
Interconnector UK (IUK) recently implemented M.A.C. Solutions' ProcessVue® alarm management software at its Bacton and Zeebrugge gas terminals. As a result, the company can now perform accurate alarm analysis across the two terminals and gain an accurate picture of the number of alarms that operators have to deal with.
IUK owns and operates the only physically bi-directional gas pipeline between the UK and Continental Europe. The Bacton (UK) and Zeebrugge (Belgium) terminals are connected by a 235 km pipeline that runs under the southern part of the North Sea. The pipeline diameter is approximately 40 in. and has a forward capacity of 20 billion m3/y and a reverse capacity of 25.5 billion m3/y.
Alarm management best practice
Since its establishment in 1991, the Engineering Equipment and Materials Users Association's (EEMUA) 191 rule has become the globally accepted standard for good practice alarm management. Alarm management software should therefore be based on the EEMUA 191 guidelines.
Moreover, I order to establish an alarm management system based on these guidelines, alarm data must be collected and analysed on a continuous basis.
IUK alarms
IUK carried out an independent alarm system 'health check' and GAP analysis to benchmark against the EEMUA 191 guidelines. The results identified that IUK's current alarm system required improvements such that they would comply with the guidelines.
Bacton and Zeebrugge have their own seperate (although identical) SCADA systems. Therefore, alarms and events are generated locally at each site. Since the Zeebrugge site tends to be unmanned and remotely operated by engineers at Bacton, under normal operating conditions, Bacton is responsible for responding to Zeebrugge alarms.
However, there is no centralised alarm historian. This makes it impossible to measure alarm loads on operators due to these separate databases and reporting systems.
Alarm management market assessment
As well as GAP analysis, IUK conducted a market assessment of current alarm management products. It used the following criteria it score each product: functionality, hierarchy, flexibility, scalability, support and cost.
ProcessVue from M.A.C. Solutions scored highest due to its flexibility. The ProcessVue suite includes an alarm historian, alarm analytics and a master alarm database. The software is modularised, scalable and built using modern technologies.
Ease of use has been the development philosophy of ProcessVue as a difficult to use application requires days of training in order to grasp.
ProcessVue also contains a fully configurable report scheduler that allows the administrator to select single or groups of reports, the desired timeframe and output method (email, file or print). Once it is configured correctly, the software delivers the information when you want it.
The environment at IUK raised many challenges. There were two SCADA databases located on different continents and in different time zones. These systems had to be 'stitched' together in chronological order for analysis. M.A.C. Solutions therefore had to consider the mode of operation and flow direction.
Forward mode is from Bacton to Zeebrugge; reverse mode is Zeebrugge to Bacton. Alarms needed to be identifiable depending on this. The operators also wanted to be able to see, in isolation, alarms from each unit and to be able to compare one unit to another. For example, to compare alarm loads from Bacton compressors to the Zeebrugge compressors when in a certain operating mode. To achieve this, modifications to ProcessVue and to the SCADA system in terms of how it recorded the alarm data were required.
M.A.C. Solutions installed ProcessVue Collector software at both ends of the pipe. The collector has the function of sucking the data out of the local SCADA database. The Collector looks for an ascending Record ID within the database to keep track of where it has read up to.
Each element is stored in a specific field within the ProcessVue database and is available to see using the ProcessVue Client.
M.A.C. Solutions configured the Client to show alarms from each unit. Each window of data shows the alarms from a particular unit. Additional windows were then created containing all the alarms when Bacton are in control and all alarms when Zeebrugge are in control. This allows IUK to perform accurate alarm analysis across different units and to get an accurate picture of the number of alarms operators have to deal with.
Read the article online at: https://www.worldpipelines.com/product-news/12102016/mac-solutions-solves-gas-pipeline-problem/
You might also like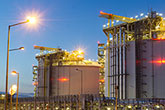 Prices pick up slightly but continue to remain deflated worldwide; prices did not respond as they did in 2022 despite disruption of gas pipeline supplies in Europe by multiple maintenance works.