Quorum Software accelerates compliance with FERC-approved NAESB 3.2 standards
Published by Aimee Knight, Editorial Assistant
World Pipelines,
---
Quorum Software (Quorum), the global software leader dedicated to the energy industry, has announced the latest release of its myQuorum Pipeline Management software meets the North American Energy Standards Board (NAESB) 3.2 standards recently approved by the Federal Energy Regulatory Commission (FERC).
FERC Order No. 587-Z includes updates to existing cybersecurity-related standards developed in response to the Department of Energy-sponsored cybersecurity surety assessment and are intended to enhance the security measures of business transactions on interstate natural gas pipelines. Quorum accelerated compliance with the latest standards to help pipeline operators quickly adopt the latest best practices, including transparency and cybersecurity-related guidance.
"Security is a critical priority for the energy industry, and recent cyberattacks have put pipeline operators at the forefront," said Tyson Greer, Chief Product Officer, Quorum Software. "Quorum is committed to developing software that meets high standards, helps our customers minimise disruptions, and supports their operations. We have a longstanding track record of delivering and successfully implementing new versions of the NAESB standards to our customers, including prioritising NAESB standards as part of our product roadmap, participating actively as a member, and partnering with customers to help them meet the regulatory requirements and demands of an evolving industry."
Version 3.2 includes updates to the Nominations Related Standards and the Quadrant Electronic Delivery Mechanism Standards and modifications to the data sets that support Nominations, Additional Standards, Flowing Gas, and Capacity Release. Per the Order, interstate natural gas pipelines must make compliance filings by November 12, 2021, and comply with the standards incorporated by reference by 1 June, 2022.
The latest release of myQuorum Pipeline Management is certified to comply with NAESB 3.2. Courtney Harmon, Senior Quorum Manager responsible for myQuorum Pipeline Management, is an elected member of the 2021 NAESB Wholesale Gas Quadrants Services Segment.
Read the article online at: https://www.worldpipelines.com/product-news/12082021/quorum-software-accelerates-compliance-with-ferc-approved-naesb-32-standards/
You might also like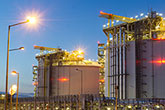 Prices pick up slightly but continue to remain deflated worldwide; prices did not respond as they did in 2022 despite disruption of gas pipeline supplies in Europe by multiple maintenance works.