---
Pipe blocking and stopping pipes containing hydrocarbons such as petroleum products and natural gas can often pose challenges, with normal pipestoppers unable to withstand such intense conditions.
The Pipestoppers® Division of Huntingdon Fusion Techniques HFT® manufacture a range of hydrocarbon resistant stoppers called PetroChem® Stoppers. Manufactured from a high-grade latex, the PetroChem Stoppers offer a rubber internal inflatable bag covered with a petrochemical resistant layer, which has a tough, woven impregnated nylon outer cover, capable of withstanding temperatures up to 80°C (176°F).
Ron Sewell, Chairman for HFT said: "Inflatable stoppers are often used for various applications such as debris stopping, leak testing, low-pressure hydrostatic tests, blocking the release of hydrocarbon gases and a variety of plumbing operations."
"The Pipestoppers inflatable stoppers are used to service a wide variety of industrial applications. As 'overnight stoppers' they provide a strong barrier in pipeline activities, to prevent foreign bodies entering the line during downtime. In machining applications, they can be inserted below a horizontal flange on a vertical pipe, to prevent machining fluid, swarf and tools from falling into expensive machinery such as pumps and heat exchangers etc."
The standard range of PetroChem Stoppers are manufactured in cylindrical and spherical formats from 1 – 44 in. (25 – 1118 mm) in diameter.
Inflatable stoppers are particularly useful when one or more can be inserted into a small opening close to a work location, rather than at the end of the pipe, tank or vessel. No high-pressure equipment is needed for inflation.
PetroChem Stoppers are also available with optional heat resistant covers to protect them against high temperatures of up to 300°C (572°F), ensuring the stopper is not damaged when exposed to high temperatures. Inflatable stoppers weigh much less than most of their counterpart sizes of mechanical plugs, making them easier to transport and safer to use at height.
Read the article online at: https://www.worldpipelines.com/product-news/12072019/huntingdon-announce-hydrocarbon-resistant-stoppers/
You might also like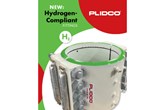 In response to the emerging transition toward hydrogen, PLIDCO has introduced a new range of products for use with hydrogen pipelines.