---
Inductotherm Group wrapped up its five-day exhibition at the Thermprocess/GIFA show in Du¨sseldorf on 29th June with resounding success.
"We've been attending the GIFA and Thermprocess shows for decades and it's always been a great opportunity for us to meet with our customers from around the world. No matter how much the world digitises, there's nothing more important than establishing and maintaining personal relationships with our customers and partners," says Gary Doyon, CEO of Inductotherm Group.
Messe Du¨sseldorf welcomed over 72 500 visitors from 118 countries, including China, India, Turkey and Russia, in the most international show of its kind for the thermal processing industry. "At the show we had 70 product managers from 21 countries, speaking over 30 languages to support our international visitors at Thermprocess/GIFA 2019," notes Satyen Prabhu, Group Vice President of Inductotherm Group. "Our team met with over 1000 customers – all day long there were handshakes and smiles, discussions about technology advances, conversations about future projects, and even business deals."
Inductotherm Group displayed 11 pieces of equipment, including the Inductotherm 175kW VIP® Power Supply with iSense™ Data Visualisation System Demonstration, 750 kW VIP® Power Supply with IoT capabilities and a Tilt-Pour™ Furnace. Also on display was a Thermatool® HCT (HazControl Technology) Welder, Consarc® 20kg Clamshell Vacuum Induction Melting (VIM) Furnace, InductoScan® Platinum Induction Scanner, InductoForge® Modular Billet Heater, Merlin™ Field Joint Heating and Coating System, and Statipower® IFP™ (Independent Frequency and Power) Induction Power Supply.
"Our customers love to 'kick the tires' so to speak, so it's always important to them to see our equipment 'live', open the doors and talk through our advanced technologies," continues Gary Doyon. "But we also provided 22 touchscreens loaded with over 500 pieces of content so we could do a deeper dive into the technologies and advancements we provide, and discuss how we align with our customers industry advancements."
"We want our customers to experience our equipment in a whole new light, so we created some advanced digital experiences," says Bernard Raffner, Group Vice President and President of the Long Products Division. "There was a queue for our virtual reality experience of welding technologies, as well as our extended reality 'virtual tours' of a bar line, vacuum atomiser and forge shop. Our customers loved our digital representations of welding lines, bar heaters, strip heaters, forging lines and melt shops."
"We love greeting and meeting our customers and potential customers from around the world and can't wait for 2023!," concludes Gary Doyon.
Read the article online at: https://www.worldpipelines.com/product-news/11072019/inductotherm-group-wraps-up-exhibition-at-gifa/
You might also like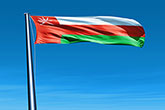 Oman's OQ Gas Networks announces price for gas pipeline business IPO.