---
Zetec Inc. has introduced the Surf-XTM family of eddy current array probes, with a flexible circuit design and proprietary X-PROBETM coil technology that allow each probe to conform to a variety of materials, shapes, and geometries for inspection applications in oil and gas, power generation, aerospace, and more.
The key advantages of the Surf-X array probe family are its versatility and speed.
Surf-X array probes feature interchangeable multiple coil sets that enable users in the field to change a coil set in less than a minute and adapt the probe to a range of materials and surface geometries. Surf-X array probes offer a detachable encoder that can connect in multiple locations on both the handle and electronics module, providing maximum versatility when it comes to dealing with different positions as you probe.
This design offers breakthrough inspection efficiencies. The Surf-X array probe's electronics module connector, cable, and detachable encoder can be used interchangeably across different coil sets for material cost savings. With subsequent Surf-X array coil set purchases, the module, encoder, and cables can be re-used, saving time and money.
"Surf-X array probes are easy to use, extremely efficient, and can reduce inspection time by up to 95% vs pencil probes," said Bill Ziegenhagen, Zetec Eddy Current Probes Product Manager. "The innovative design truly delivers an inspection advantage."
Surf-X array probes are available with interchangeable coil sets, including:
SURF-X Weld Array Probe: This set combines +point coils to find indications in weld toes while array coils test the remaining weld and heat-affected zones, like shipboard T and Butt welds.
SURF-X Flex Array Probe: This flexible probe bends to produce detailed, accurate results across complex geometries and irregular surfaces, like rivets on airplane wings or grooves in carbon steel mining drums.
All Surf-X array probe coil sets come with three wear-surface options for maximum flexibility: a no-wear surface to inspect smooth materials; a cloth wear surface for smooth or polished surfaces; and a 'super fabric' for protecting array coils on rough surfaces.
Surf-X array probes are a fast, accurate, chemical-free alternative to penetrant testing (PT) that, when used with the Zetec MIZ®-21C handheld eddy current instrument, is a cost-effective portable surface array solution. Recently updated, the Zetec MIZ-21C is now a sealed unit with increased operating temperature range, increased internal memory storage, off-the-shelf battery charging, and more.
"With a MIZ-21C eddy current instrument and Surf-X array probe, you can quickly and accurately handle virtually any eddy current test application without extra hardware, chemicals, or complex set-ups," said Ziegenhagen.
Read the article online at: https://www.worldpipelines.com/product-news/09072019/zetec-introduces-new-eddy-current-array-probes/
You might also like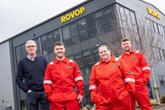 ROVOP focused on producing the 'next generation' of ROV pilots, adds three new trainees to its training programme.