---
Trimble has announced that Trimble® Clarity is available as a stand-alone web application that can simplify the visualisation and navigation of 3D data. With this major update, Trimble Clarity enables geospatial professionals to view, use, and share 3D point cloud data, models, and meshes with engineers, architects, city planners, and other project stakeholders via a web browser, which can be viewed on desktop and mobile devices.
The Trimble Clarity web application provides:
3D data sharing

The ability to easily use and share 3D data with clients or project stakeholders extends the value of rich 3D data, promotes services, and generates new revenue streams. Users can generate private or public web links to share project information, providing secure control over access to the data.

Support for industry standard data formats

Trimble Clarity supports data from Trimble products, such as the Trimble SX10 Scanning Total Station, Trimble TX Series 3D scanners and Trimble MX9 Mobile Mapping System, as well as data from non-Trimble sources, making it useful for any organisation that captures 3D data.

Seamless integration with Trimble workflows

With the upcoming version of Trimble Business Centre office software 5.20, users can publish their 3D data directly into Trimble Clarity, which can create a seamless integration and workflow between both platforms.

Visual directory

By viewing the 3D data as a location-based project, users are able to more quickly understand the context of the data, significantly improving the ease of use compared to traditional folder-based approaches.
"Trimble Clarity enables users to easily share and view rich 3D point clouds without having to transfer, copy or mail large data sets," said Tim Lemmon, Marketing Director of Trimble Geospatial. "By leveraging an intuitive, browser-based experience, stakeholders can easily visualise and understand project data, enabling greater collaboration and informed decision making."
In addition, Trimble Clarity now features:
Cloud integration including Trimble Connect, Dropbox and Google Drive so users can easily log in and view data directly from where it is already stored.
Support for 3D point cloud, imagery and mesh model formats, including: .las/.laz/.e57/.skp/.obj
Free use for two projects. Subscription plans are available for organisations that need to view more than two projects.
Read the article online at: https://www.worldpipelines.com/product-news/08112019/trimble-offers-web-application-for-3d-data/
You might also like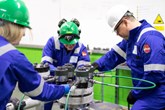 3t EnerMech named regional winner at top engineering awards for the second year in a row.