---
Vaisala has launched the new Indigo 520 Transmitter, which combines the latest technology with several new features. Capable of accommodating up to two probes simultaneously, the transmitter is designed to provide enhanced convenience, compatibility and continuous accuracy to industrial measurement environments.
"I am very excited to welcome the new Indigo 520 Transmitter to the modular Indigo product family. The Indigo compatible products are the premium choice for providing high-quality data from a multitude of industrial processes. The new transmitter has what it takes to perform even in the harshest and most extreme industrial environments," says Jarkko Ruonala, Product Manager at Vaisala.
"Industrial systems depend heavily on reliable sensors. The data must not only be accurate and reliable, it also needs to be easily accessible and clearly visualised. This way, users can base their decisions on the best possible data, which is where the new Indigo 520 excels. As we know, decisions can only be as good as the data," Ruonala says.
The Indigo 520 is a durable metal transmitter, compatible with Vaisala's range of Indigo compatible smart probes for humidity, temperature, dew point, carbon dioxide, vaporised hydrogen peroxide, and moisture in oil measurements. It can accommodate up to two detachable measurement probes simultaneously, measuring the same, or different, parameters at the same time. The probes can be swapped quickly and easily whenever needed. The transmitter has an IP66- and NEMA 4 -rated robust metal enclosure, and a touchscreen display made of hardened glass.
The Indigo 520 Transmitter displays live measurements and transmits them to automation systems through analogue signals and relays, or digitally using Modbus TCP/IP protocol over the Ethernet. The transmitter's Ethernet connection also provides a web interface and cybersecurity that meets modern standards.
The Vaisala Indigo 520 Transmitter will be available in June 2020.
Read the article online at: https://www.worldpipelines.com/product-news/06052020/vaisala-releases-industrial-indigo-transmitter/
You might also like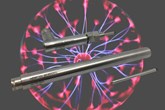 The energy sector uses NewTek LVDT position sensors as metrology tools in ensuring the proper operation of different power systems.