---
Transneft Diascan took part in Oil & Gas West Asia (OGWA) 2018, one of the largest oil and gas exhibitions in the Middle East, held on 26 - 28 March in the city of Muscat, Oman.
The company exhibited cutting-edge solutions and developments for inline inspection of its own production: mock-up models of a multichannel geometry tool and a magnetic inspection tool with a speed regulator.
The multichannel geometry tool is designed for measuring the pipeline flow area and bent radii of various diameter pipelines.
The device also helps detect such defects as dents, out-of-roundness of the pipe, buckles, pitting corrosion, slit-shaped defects in welded joints and in the pipe body, as well as scratch marks.
With a growing number of foreign companies' orders for inline inspection of both oil and gas pipes received by Transneft Diascan, a number of tools are being upgraded. For example, equipping magnetic defectoscopes with speed regulators adapts them to a gas environment, enabling smooth movement.
"The company participates mainly in exhibitions that are held in the countries where it conducts or plans to conduct inline inspection. Participation in events like this allows Diascan to demonstrate its advantages to potential clients and serves as one of the most important tools for overseas expansion," noted Sergey Ermish, Director General of Transneft Diascan.
Transneft Diascan performed inline inspection works in Oman for the first time in 2017, having examined about 53 km of oil pipelines.
Read the article online at: https://www.worldpipelines.com/product-news/06042018/transneft-diascan-exhibits-inspection-tools-at-oil-and-gas-expo-in-oman/
You might also like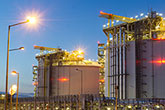 Prices pick up slightly but continue to remain deflated worldwide; prices did not respond as they did in 2022 despite disruption of gas pipeline supplies in Europe by multiple maintenance works.