Custom Steel Fabricators, Inc. invests in PEMA automated welding solutions
Published by Aimee Knight, Editorial Assistant
World Pipelines,
---
Custom Steel Fabricators, Inc. consists of two workshops and approximately 50 000 ft2 working area in Columbia, TN. The company serves a large variety of industries, such as power, chemical, cement, aluminium, and carbon products with work experience of all 300 series of stainless steels, duplexes, and 6% moly grades as well as most nickel Alloys.
Custom Steel Fabricators, Inc. employs about 40 personnel and has steadily grown its scope of work throughout the years – which is one of the reasons the company decided to invest in PEMA solutions. After the first interactions in 2018, Pemamek delivered the first PEMA solutions to Custom Steel Fabricators, Inc. during the spring of 2020.
PEMA solutions to tackle challenges in the fabrication process
"As the scope of our work and our customer base grew, one of the challenges we faced in our fabrication process was the fitting and welding of large diameter shells. The utilisation of turning rolls and a welding manipulator with SAW process assisted, but as the required sizes kept growing, these solutions proved to be inadequate," explains Mr. Tony Sciotto, the President of Custom Steel Fabricators, Inc.
To tackle the challenge and offer various production benefits, Pemamek delivered PEMA Assembly Station TW5000-25 with side support arms and integration to PEMA MD 4.5×5 Column & Boom with single SAW welding head to the Tennessee-based client.
"Before, our manual fitting was quite accurate, but it was also quite slow. We needed to improve the speed and accuracy of the fit-up of large cylinders with automated solutions, which enable a faster and more efficient process. By utilising the side support arms, we are now able to support the cylinder as we fit the joint and also throughout the welding process – no more manual fit-ups", tells Mr. Sciotto.
Custom Steel Fabricators, Inc. is currently working on a ½ in. thick alloy 2205 duplex stainless fabrication project 156 in. in diameter, where PEMA solutions are already put to use.
Read the article online at: https://www.worldpipelines.com/product-news/05062020/custom-steel-fabricators-inc-invests-in-pema-automated-welding-solutions/
You might also like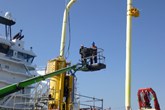 AIS awarded another custom coating project offshore Brazil.