---
Reliable and permanent protection of pipe sections and weld seams are one of the main challenges in pipeline construction. A wide range of often time-consuming processes that differ for each application have previously been used. Until now. SEALID® All-in-1 Tape is DENSO Group Germany's patented innovation for universal application: for the first time it provides unprecedented protection against corrosion as well as mechanical loads in a single step – without additional primer and without the use of other devices. Corrosion protection made easier than ever before.
By fulfilling ISO and EN standards, SEALID® All-in-1 satisfies the increasingly stringent requirements in pipeline construction: A single wrap is enough to fulfil the requirements of ISO 21809-3 at operating temperatures of up to +158°F. The requirements of EN 12068 and DIN 30672 for class C50 are also met with a single wrap.
No primer – just one wrap for corrosion and mechanical protection
Focussed on the goal of making corrosion protection even more reliable and efficient, after several years of development, DENSO GmbH presents a global innovation: SEALID® All-in-1 radically simplifies the protection of pipes and weld seams. The idea of getting rid of the primer and the desire for only one work step required an extremely tough tape with special adhesive properties. SEALID® is the impressive result. The new all-in-1 solution is manufactured in a genuine multi-layer co-extrusion process. When wrapped in a spiral pattern the tape forms a completely closed protective hose with exceptional durability. Impermeable to water vapour, oxygen, soil bacteria and soil electrolytes, the protective hose achieves a minimised cathodic disbondment together with an outstanding peel and lap shear strength. "SEALID® All-in-1 is an exceptional product: no primer and just one wrap for corrosion and mechanical protection." A development to be proud of!", says Max Wedekind, Managing Director DENSO Group Germany.
Efficient and low-cost application at the construction site
The simple application of SEALID® All-in-1 ensures outstanding sustainability with significant work, time and cost savings. As a universal solution for new construction and rehabilitation, it is ideal for a range of applications – whether for weld seam protection, whole-pipe wrapping, pipe bends or T-pieces. It is easily and quickly applied by hand or using DENSOMAT® wrapping devices. The use of hazardous and harmful substances and heavy equipment is eliminated. An effective contribution to environmental protection and occupational safety. "The flexible and easy application makes SEALID® All-in-1 the universal solution for corrosion protection of pipelines", says Thomas Kaiser, Managing Director DENSO Group Germany.
As an all-in-1 solution, SEALID® offers clear benefits compared to all existing corrosion protection procedures:
In contrast to conventional tapes and tape system, there is no need for a primer or a second tape. SEALID® is just wrapped once.
It eliminates the need to preheat the steel surface as well as the tedious shrinking and air removal, as is the case for heat shrinkable sleeves. Errors are prevented from occurring in the first place.
In contrast to viscoelastic/petrolatum tapes, no additional products are needed for mechanical protection. This eliminates timely and costly work steps.
SEALID® can be applied independent of the weather conditions, as opposed to liquid coatings. Protective equipment and associated devices are not necessary, because no harmful substances are used.
Read the article online at: https://www.worldpipelines.com/product-news/03112021/dekotec-sealid-all-in-1-tape-simplicity-in-pipeline-construction/
You might also like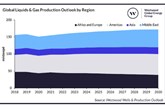 New report from Westwood finds liquids and gas production set to reach 173 million boe/d by 2030, with 9% growth on 2022 levels.