---
As Victrex celebrates the invention of PEEK polymer 40 years ago, the company will be at OTC 2019 in Houston (Booth #505) to emphasise how it has developed its polymers to final parts product range.
James Simmonite, Director Energy at Victrex comments, "In PEEK's 40th anniversary year, we can take a look back and see just how Victrex's PEEK innovation has changed sectors, such as Energy and how Victrex has transformed into a global material, technology and solutions provider. 'Power to progress polymers' could be our mantra today."
Today's list of VICTREX PAEK and PEEK-based innovations covers polymers, films, fibres, pipes, composite and gear solutions. In addition, strategic investments and development partnerships with leading companies, such as Magma Global Ltd. in the energy industry, are further propelling the industry and company.
In the oil and gas sector for example, Magma's m-pipe® technology serves as one of the prime examples of utilising an invention such as VICTREX™ PEEK thermoplastic composite to innovate. This subsea pipeline solution has been designed to reduce exploration and production costs and risks for demanding risers, jumpers, flowlines and downlines applications. At the end of 2016, Victrex invested a minority interest in Magma to further facilitate its adoption. Outstanding properties make m-pipe a cost-effective alternative to traditional steel and non-bonded flexible pipe. It requires minimal maintenance and, since it is not subject to corrosion, has a longer lifetime than steel.
Sealing solutions: Designed to improve efficiency and service life
Victrex recently launched a new cryogenics polymer, VICTREX CT 200, specifically designed for dynamic sealing applications. This series exhibits improved sealing over a wider range of temperatures, compared to commonly-used materials such as PCTFE. It does so at low temperatures because of its greater ductility, and at high temperatures due to its superior creep resistance.
VICTREX CT polymers have also been shown to maintain better dimensional stability, with a lower coefficient of thermal expansion than incumbent material. The higher thermal conductivity of these Victrex polymers enables a fast response to temperature changes, ensuring the material is always engaged with the counter-surface. In addition, laboratory testing indicates that they may require less torque to actuate since they have a lower static and dynamic coefficient of friction compared to PCTFE. This results in less wear, higher performance and a potential for cost savings.
Seal rings, thrust washers, bushings and bearings made of PEEK are also used in many applications where they must withstand extremely high pressures, high temperatures, aggressive chemicals, and corrosive environments and consequently help to improve service life and reliability to eliminate costly downtimes. A case in point is thrust bearing pads for pumps; even after more than three years of operation, there is only minimal wear due to the tribological wear properties of VICTREX PEEK. In addition, power loss was reduced by up to 30%.
Innovation in composites earns 2019 JEC Innovation Award
Victrex's considerable and long-term material and processing know-how decisively contributed to another PAEK-composite based innovation: German-based Herone's all-thermoplastic drive-shaft system overmoulded with an integral gear. It was recently also recognised with a 2019 JEC Innovation Award. The application builds on three Victrex pillars: PEEK polymer; VICTREX AE™ 250 unidirectional tape (UDT) thermoplastic composite; and the hybrid overmoulding processing technique developed by Victrex.
Gearing up with PEEK polymers
Gear solutions replacing metals have shown a reduction in rattle and noise issues in automotive engine applications by up to 50% (3dB). Compared to powdered metal gears, the weight and moment of inertia is also considerably lower with VICTREX HPG™ gears, contributing to higher system efficiency in automotive applications. Victrex's gear offering includes high-precision gear design, prototyping, testing and manufacturing capabilities to help customers gain a competitive advantage.
Read the article online at: https://www.worldpipelines.com/product-news/01052019/victrex-celebrates-peeks-40th-anniversary/
You might also like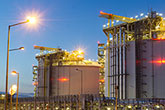 Prices pick up slightly but continue to remain deflated worldwide; prices did not respond as they did in 2022 despite disruption of gas pipeline supplies in Europe by multiple maintenance works.