---
Eddyfi Technologies is proud to announce that the Gekko® phased-array flaw detector has been successfully qualified for the examination of austenitic and ferritic piping welds according to the Electric Power Research Institute (EPRI) procedure 'EPRI-PIPE-MPA-1, Rev.2'. The EPRI procedure is qualified according to ASME Boiler & Pressure Vessel Code, Section XI, Appendix VIII.
The Gekko inspection equipment is qualified to accurately detect and length size discontinuities within the specified examination volume from the outside diameter (OD) surface. This includes piping systems susceptible to stress corrosion cracking (SCC).
Since 1972, the EPRI is an independent non-profit organisation for public interest in energy and environmental research. Being qualified by EPRI is a real recognition in the nuclear industry and it means to be one step forward towards a safer and better environment. During the coming year, other qualifications at EPRI are scheduled on other procedures, and Eddyfi Technologies is actively looking forward to it.
Eddyfi Technologies is committed to provide the most advanced non-destructive testing (NDT) inspections technologies and to promote advanced technology in the nuclear industry, and that, as safely as possible.
About Eddyfi Technologies
Eddyfi Technologies maximises the potential of multiple advanced NDT inspection technologies. It focuses on offering high-performance NDT solutions for the inspection of critical components and assets through its complementary brands and product lines: Eddyfi, Silverwing, Teletest, TSC, and M2M. Eddyfi Technologies serves customers in more than 80 countries in such major industries as power generation, oil and gas, aerospace, and manufacturing. The group employs more than 320 people and leverages nine centres of excellence and sales offices worldwide, all staffed by NDT experts.
Read the article online at: https://www.worldpipelines.com/product-news/01022019/phased-array-flaw-detector-receives-qualification/
You might also like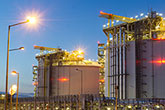 Prices pick up slightly but continue to remain deflated worldwide; prices did not respond as they did in 2022 despite disruption of gas pipeline supplies in Europe by multiple maintenance works.