---
Radiflow, a leading provider of industrial cybersecurity solutions for industrial automation networks, has announced that the company has added dynamic vulnerability assessment scoring capabilities in the new release of its iSID industrial threat detection solution.
The current practices for risk assessments and security remediations employed by industrial enterprises and critical infrastructure operators, generally rely on manual evaluations and follow unstructured processes. These processes are often time-consuming and are not sufficiently responsive to changes in the threat and vulnerability landscape.
In this new version of the iSID industrial threat detection solution, version 5.3, Radiflow has added a dedicated risk analytics module that automates vulnerability mapping and assessment processes. This new risk analytics module dynamically evaluates vulnerabilities according to the classification of attacker profiles and defence strategies for protecting specific functionalities and operational processes.

Different attacker models presenting different possibilities for an attacker to move and influence the operational network.
Based on the attacker models and defined defence strategies, iSID dynamically calculates a risk and exploitability score for each device on the OT network and the most critical attack vectors using these scores. These scoring and mapping capabilities add important value to the cybersecurity efforts of industrial enterprises as security analysts and risk managers can prioritise workloads to remedy vulnerabilities based on the specific context of their OT networks and impact on the business operations of the organisation.
"There is a significant difference in the risk prioritisation between a vulnerability that threatens to shut down the furnace in a steel production facility and a vulnerability that potentially compromises the lighting in the lobby of the plant, although until now there have been no effective methods for OT network operators to weigh differently such vulnerabilities," explained Ilan Barda, CEO of Radiflow. "These new automated risk modelling capabilities are major enhancements that will allow operations teams to prioritise their risk mitigation activities, while clearly differentiating the strengths of our technology and elevating the value of our offering beyond visibility and monitoring."

Ilan Barda, CEO of Radiflow
Radiflow reports that these new capabilities are already being utilised by a number of prominent power and utility companies in Europe.
Radiflow will be demonstrating its iSID solution and the new dynamic risk assessment scoring capabilities at the upcoming RSA event in San Francisco at Booth 653T in the Israel Pavilion.
Read the article online at: https://www.worldpipelines.com/equipment-and-safety/27022019/radiflow-adds-new-capabilities-to-industrial-threat-detection-solution/
You might also like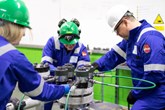 3t EnerMech named regional winner at top engineering awards for the second year in a row.