---
The new ESAB WeldCloud™ online data management platform works with ESAB's Aristo® Mig semi-automatic, Aristo Mig 5000iR robotic and LAF/TAF sub arc welding systems. Users can purchase these systems WeldCloud-ready, and ESAB can retrofit most existing systems with a communication module. Much more than data recording systems, Weld Cloud integrates with other customer systems (ERP, MDM, MRP, QA, etc.) and enables a wealth of analytics.
Using any device with a web browser, users access applications and dashboards with functionality tailored for the job needs of different personnel: operations managers, quality managers, engineers, welders, maintenance staff, training supervisors and others. WeldCloud enables data-driven decision making so that fabricators and manufacturers can move the true levers of productivity and quality, as well as make better use of working capital. With WeldCloud, customers can:
Facilitate traceability from single welds to the complete product utilising a comprehensive database at the core of the system that contains key information of every weld seam.
Develop weld schedules on a single machine, move them into the cloud and then push them out to other welding systems.
Remotely manage welding parameters, set limits and set alarms for deviations.
Ensure complete documentation of filler metals, consumables, operator qualifications and parameters (essential for structural steel construction, ship, offshore, pressure vessel, military, automotive, crane and other industries).
Monitor and act upon various productivity reports across operations in disparate locations.
Increase responsiveness of repair and maintenance operations by instantly receiving alerts from WeldCloud-enabled machines in your fleet.
Share and analyze data by teams across multiple data collection sites, using any computer, tablet or smart phone connected to the same internal network as the welding systems and database.
Work with ESAB to request custom applications, analytics and dashboards.
Request remote support from ESAB to analyse data as part of efforts to maximise productivity.
"While faster welding speeds and increased deposition rates reduce cycle time, automating activities that surround the welding processes enables users make quantum leaps in productivity, quality and machine efficiency possible," said Roul Kierkels, Acting Product Manager DDA & WeldCloud.
Edited from press release by Angharad Lock
Read the article online at: https://www.worldpipelines.com/equipment-and-safety/25052016/esab-launches-weldcloud-152/
You might also like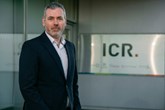 ICR Integrity announces the appointment of Ross McHardy as Group Director.