---
PipeLine Machinery International (PLM) brings news of the 10 000th machine to be assembled and delivered by the Caterpillar® Hydraulic Excavator Facility in Victoria, Texas (USA).
The new 336F Hydraulic Excavator went to mainline pipeline contractor, Michels Corporation, and was presented in ceremony to them on 16 May, 2018.
Present at the ceremony were Tyler Sternat (Fabick Cat), Kent Podobinski (Caterpillar), Chuck Riggert (Caterpillar), Art Strother (Victoria facility manager), Doug Fabick (Fabick Cat), Mary Morris (Victoria O&D Planning), Kevin Michels, Pat Michels and Terry Gassner (MICHELS Corporation), Adam Helleberg (PLM), Roger Montalvan (Victoria supply chain manager), and Craig McArton (Fabick Cat).
The company's worldwide activities are currently supported through the corporate office in Cypress, Texas (USA); Edmonton, Alberta (Canada); The Hague (Netherlands); Beijing (China); and Melbourne (Australia).
Michels is an industry-leading utility contractor to include pipeline construction and will be taking this 336F hydraulic excavator to work on multiple projects.
Optimistic about the pipeline industry outlook, Michels appreciated the enthusiasm and recognition received from Caterpillar, Fabick Cat and PipeLine Machinery International.
The Caterpillar Hydraulic Excavator Facility in Victoria, Texas opened in 2012 and recognised this occasion as an important milestone. This 336F is the 10 000th machine to come out of this facility that builds the 336, 349 and 352 models. The request for these machines continues to grow and this excavator facility and its team members are committed to meeting industry demand.
Read the article online at: https://www.worldpipelines.com/equipment-and-safety/22052018/michels-corp-receives-10-000th-machine-from-excavator-facility/
You might also like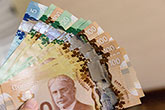 Trans Mountain Corp applies to regulators for tolls on its long-delayed 590 000 bpd pipeline expansion.