---
Multipass welds used in oil and gas pipeline construction are critical since weld failure can be catastrophic. In addition to being subject to stringent quality requirements, pipeline construction is often completed in challenging environments. Due to tight project timelines and the need to ensure proper penetration between weld passes, operators and helpers typically must grind and clean the welds while they are still hot.
All these factors make proper weld preparation and interpass cleaning crucial to the success of the overall process. Knowing the common mistakes to avoid and which abrasive products can help get the work done is important to maintaining quality and staying on production timelines.
Pipeline welding challenges
As mentioned above, the sometimes-difficult environment and stringent quality and timeline demands of pipeline welding introduce challenges into weld preparation and cleaning.
In midstream pipeline construction, full-length pipe is often laid out in the right-of-way (ROW) already bevelled. The pipe gang preps the pipe by cleaning the rust and pits off of this bevel. They then face the land to a nickel thickness and tack weld the two ends of pipe together, leaving an 1/8 in. gap between the 37° bevels on each end of the pipe. The first pass, called the root pass or bead pass, is the most critical because it creates the foundation for the remaining passes to be added on top of that bead. The welder or helper grinds the root pass with a 1/8 in. grinding wheel to create a 'U' in preparation for the hot pass.
After the root pass, the second pass (the hot pass) helps ensure full penetration of the weld. The hot pass must be completed quickly after the root pass to avoid the pipe temperature falling below allowable levels. This means grinding the root pass on a hot weld before laying down the hot pass. If the pipe diameter is larger than 12 in., two welders and two helpers work simultaneously to quickly lay and grind the root and hot pass and ensure there is no distortion during the welding process.
To access the full version of this article and get a free trial subscription to World Pipelines, be sure to sign up here!
Read the article online at: https://www.worldpipelines.com/equipment-and-safety/22032022/multipass-avoiding-weld-prep-pitfalls/
You might also like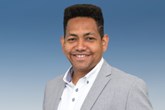 ICR Group's inspection technology has achieved accreditation from two globally-recognised bodies.