---
Now that we are into a new year and perhaps struggling to stick to resolutions, as a pipeline operator you might include enhancing your pipeline integrity as part of your pledge. If we indulge in retrospection and evaluate some of the pipeline challenges that affected companies over the past couple of months, it's evident that the impact of pipeline cracks and leaks can be significant.
The fall out affects not only the environment and neighbours to the pipeline but often requires production to be halted, as the pipeline is shut down for investigation and repair. This affects supply, pricing for the consumer, and will significantly impact your bottom line. Following the recent unplanned shutdown in December 2017 of the Forties pipeline in the North Sea – after operator Ineos discovered a hairline crack during maintenance operations on an onshore section of the 169-km pipeline system – Deirdre Michie, Chief Executive of Oil and Gas UK raised concerns on the impact of such an incident; she told the BBC that "lost production is worth around £20 million per day at current oil prices to industry". In worst-case scenarios, pipeline leaks can lead to fatalities, so pipeline integrity must be a priority.
Pipeline integrity issues aren't specific to one region; the challenge is global. In November 2017, CNN reported that a total of 210 000 gallons of oil leaked from the Keystone Pipeline in South Dakota. And a fatal explosion in Firestone, Colorado last year, caused by odourless gas seeping from a cut-off underground pipeline, has prompted State regulators to consider proposing new rules for thousands of oil and gas pipelines.
To avoid the misfortunes and disastrous consequences such as those referenced above, it's imperative that as a pipeline owner/operator, you manage inspections and repairs to keep your assets operating safely and in compliance with regulations.
What can damage pipelines? The causes are many, but chief among them are fatigue, corrosion, ground movement, and impact damage, such as from third parties.
Pipelines originally built to function for 25 or more years are now past their original planned retirement age, so fatigue and corrosion become major concerns. Life extension requires an end-to-end maintenance strategy based on understanding the pipeline through its whole life.
So how can you avoid corrosion, cracks and leaks? Surveys, monitoring, risk-based inspections, as well as an active cathodic protection system, are the main tools available to keep your pipelines operational and to mitigate unplanned shutdowns for emergency repairs.
Holistic approach
The above tools play a role in the constant search for vulnerability in your pipeline. The inspections can be made based on time, according to risk, or pursuant to regulatory requirements. Time-based inspections are often not the best way to highlight areas that need more inspections.
A more holistic way to keep pipelines safe and turning a profit is through risk-based inspections. This approach estimates the likelihood of failures and consequences, identifies high risk components and allocates resources accordingly so you can prioritise and optimise inspection and maintenance programmes. Risk-based inspections hone in on areas prone to corrosion or fatigue and help identify what needs to be inspected to help you reduce cost and risk. By comparing successive inspections, it is possible to monitor the condition of defects and to analyse the rate of corrosion or fatigue.
Each pipeline needs a tailored risk-based inspection approach that meets regulatory and other legal requirements to ensure safe operations. For example, some pipelines are exposed and can easily be surveyed, but some are not. In these circumstances we rely on new and evolving technologies to seek out potential damage to pipelines.
Technology + expertise
Technology plays a crucial role in monitoring asset condition. Inspection data and the application of algorithms identify risks pertinent to the pipeline and outline an inspection plan. Each time an inspection is carried out, the software incorporates the resulting data and becomes more efficient. Such software can provide a five and ten year plan based on the information it has about the areas of the pipeline with the most risk. This plan paints a picture of the true costs of pipeline inspection and maintenance going forward and helps you manage your pipeline assets better. Post repair, accurately monitoring pipeline remediation, anomalies and operating conditions is also key to maintaining pipeline integrity, reliability and profitability.
Additionally, having a record of maintenance and inspection activities supports due diligence during asset purchase and transfer. Such agreements may also specify conditions and responsibilities for incidents that happen shortly after a purchase. This would have been key for Ineos, which only completed its £200 million purchase of the Forties pipeline system from BP at the end of October 2017.
However, we can't put technology on a pedestal. Rather, it supplements engineering know-how. Ultimately, applying engineering expertise in areas such as integrity management, pipelines and flow assurance, the implementation of risk based methodologies, software, and combining these with innovative technologies, can provide timely and effective proven solutions. This makes your operations safer, reduces your costs and liabilities, and it protects the environment.
At LR, we help you manage and improve the design, construction, operation and integrity of your onshore and offshore pipeline projects and network, which include risers and flexible pipeline systems. From applying engineering solutions that overcome complex situations, to pipeline repair monitoring using proprietary innovative technology, to better decision making and cost saving through geographic information systems (GIS), we can help you enhance productivity, reduce risk and save costs.
Author: Chris Wilber, Pipelines Director
Read the article online at: https://www.worldpipelines.com/equipment-and-safety/21022018/new-year-new-pipeline-integrity-resolution/
You might also like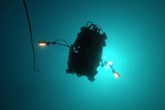 Voyis and Deep Trekker, have joined forces to achieve the successful fusion of Voyis' Discovery Camera with Deep Trekker's REVOLUTION ROV.