---
The pipeline has been operating at a reduced capacity since Sunday 5 December 2021, when it was safely restarted following a 21 day precautionary shutdown as a result of heavy rains and flooding in British Columbia and Washington state.
On 15 December 2021, just over one week since the Trans Mountain Pipeline was safely returned to service, gasoline and crude oil continued to flow to Trans Mountain's customers in Kamloops, Burnaby and Washington state.
While operating the pipeline at reduced capacity had begun to ease the disruption to motor fuel supply to the region, more than 400 people were involved in the response – both on the ground and in Trans Mountain's incident command post. With ground access to all sites established, crews were focused on coating repairs in preparation for backfilling exposed areas, berm fortification and planning to return to full capacity. Trans Mountain have continued with these emergency works throughout the winter period to fortify the pipeline right-of-way in preparation for spring runoff. The teams are focused on the reinstatement of sites impacted by heavy rains and flooding in the regions north of Hope and south of Merritt.
Throughout the shutdown period, the pipeline remained safely in a static condition and there was no indication of any product release or serious damage to the pipe. The pipeline was restarted on Sunday December 5 at a reduced capacity following a 21 day shutdown.
Trans Mountain utilised its expansion project and operational crews and equipment to reinstate access to the pipeline lost due to damaged roads, changes in river flows and adverse weather. Hundreds of people worked around the clock to clear highways, build bridges and manage watercourses to allow for access and repairs to the pipeline.
In addition to the restart efforts, Trans Mountain's workforce - including their contractor teams - utilised their people and equipment throughout the Fraser Valley, Coquihalla and BC interior regions to assist those most in need. Their efforts included providing transportation, fuel, food and water in the days following the flooding.
The Trans Mountain pipeline was returned to normal operating pressure on 15 January 2022. The return to full pressure follows the preparation of a comprehensive engineering assessment and the acceptance of Trans Mountain's plan for return to normal operations with the Canada Energy Regulator.
Read the latest issue of World Pipelines magazine for pipeline news, project stories, industry insight and technical articles.
World Pipelines' January 2022 issue
The January issue features a European pipelines report from Route4Gas, technical articles on coatings and subsea maintenance, and in-depth pieces on fibre optic sensing and offshore pipeline decommissioning. Don't miss the think piece from Bonney Hodges, Energy Operations Director at ISN, USA, who talks about changing regulations, operator challenges and contractor management systems.
Read the article online at: https://www.worldpipelines.com/equipment-and-safety/21012022/the-trans-mountain-pipeline-returns-to-normal-operating-pressure/
You might also like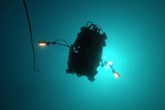 Voyis and Deep Trekker, have joined forces to achieve the successful fusion of Voyis' Discovery Camera with Deep Trekker's REVOLUTION ROV.