---
A major oil spill on the Keystone pipeline in South Dakota helped push US crude prices higher on Friday, while fuelling opposition to another pipeline project by owner TransCanada Corp that faces a crunch decision in Nebraska next week.
The Keystone pipeline running from Canada across the Great Plains leaked Thursday morning, spilling about 5000 bbls of oil — or 210 000 gal. — southeast of the small town of Amherst in northeast South Dakota.
The climb in US crude futures and slide in Canadian heavy crude prices, as well as TransCanada Corp shares, came the day after the 5000 bbls spill, tied for this year's largest pipeline leak in the US.
No date has been set for reopening Keystone, TransCanada said.
The spill gave further ammunition to environmental groups and other US opponents of another pipeline the company has proposed, the long delayed Keystone XL.
Keystone carries 590 000 bpd of crude from Alberta's oilsands to markets in the United States. The state of Nebraska was set to decide on Monday whether to approve Keystone XL.
On Thursday, Calgary, Alberta-based TransCanada said it had contained the leak in the town of Amherst, South Dakota, and was investigating the cause. It said the pipeline will be shut until it gets approval to restart from the US Pipeline and Hazardous Materials Safety Administration (PHMSA).
"It's not a tiny spill by any means," said Kim McIntosh, Environmental Scientist Manager at the South Dakota Department of Environment and Natural Resources. McIntosh said it may take longer than usual for the company to determine the extent of contamination, a process that usually takes days.
The last Keystone pipeline spill recorded was about 400 bbls of oil in Hutchinson County, South Dakota, in April 2016. "The 2016 release took around 10 months to clean up; this will take longer," said McIntosh. "I can't predict whether it will take 20 months or 12 months."
TransCanada spokesman Terry Cunha said the company is assisting with the storage of crude in Hardisty, where Keystone originates, and that it regrets the impact caused to customers.
TransCanada, which has a vast network of oil and natural gas pipelines, said that the latest leak occurred about 35 miles south of the Ludden pump station, which is in southeast North Dakota, and that it was "completely isolated" within 15 minutes. The company said it obtained permission from the landowner to assess the spill and plan cleanup.
TransCanada Corp. said in a statement on Friday that "we take this incident very seriously and are working with federal and state regulatory agencies," and has over 75 people working on the response to the leak, which was reported on Thursday, in a sparsely populated area of Marshall County, near Amherst in the northeastern part of the state.
TransCanada said on Thursday that it detected a drop in pressure overnight and safely shut off the stretches of pipeline within 15 minutes at about 6 am (7 am ET).
Read the article online at: https://www.worldpipelines.com/equipment-and-safety/20112017/keystone-pipeline-spill-update/
You might also like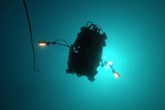 Voyis and Deep Trekker, have joined forces to achieve the successful fusion of Voyis' Discovery Camera with Deep Trekker's REVOLUTION ROV.