---
Recently, Trans Mountain conducted one of the largest Emergency Response Exercises in the company's history to practice spill response in Burrard Inlet. The drill included a co-ordinated response with more than 300 participants/observers and 20 response agencies working collaboratively to ensure an efficient and effective response.
The full-scale exercise provided an opportunity for response personnel to demonstrate and practice the implementation of the Westridge Marine Terminal Emergency Response Plan, as required by the National Energy Board and Transport Canada.
"Our goal is to operate, manage and protect the pipeline system so that our emergency response plans are never used, while being fully prepared for any type of incident," says Michael Davies, Vice President of Operations for Trans Mountain Corporation. "Exercises like these allow us to demonstrate our industry-leading practices for incident response, and train together with the agencies and first responders that would be involved in an incident to ensure that we are fully prepared to respond in a timely and effective manner."
The exercise consisted of water-based response activities at various geographic response sites within Burrard Inlet, as well as simultaneous shoreline deployment activities at the Westridge Marine Terminal. The drill included an off-site Incident Command Post where several agencies, stakeholders, first responders and regulators participated in an integrated response alongside Trans Mountain personnel.
"We understand communities along the pipeline corridor are concerned about emergencies and response capabilities. Our plans are continually reviewed, revised, practiced and shared with first responders all along the right-of-way," says Jamie Kereliuk, Trans Mountain's Director of Emergency Management. "Our top priority is the safety of the communities where we operate. In the rare case of an emergency, we have detailed response procedures and trained professionals who are fully prepared to quickly respond to any type of incident anywhere along the pipeline system."
Trans Mountain is required to have an Emergency Management Program that anticipates, prevents, manages and mitigates conditions during the unlikely event of an emergency. Each year we conduct more than 20 emergency response exercises, equipment deployment drills and training opportunities that are evaluated by regulatory agencies.
A full-scale exercise is defined as a multi-agency, multi-jurisdictional activity involving the mobilisation and actual movement of emergency personnel, equipment, and resources, as if a real incident had occurred.
Read the article online at: https://www.worldpipelines.com/equipment-and-safety/20092018/trans-mountain-conducts-full-scale-emergency-exercise/
You might also like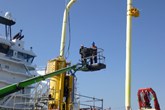 AIS awarded another custom coating project offshore Brazil.