---
Water availability and the transportation costs to get it to the jobsite as well as the disposal costs of used drilling fluid are becoming more regulated and more expensive. There is increased awareness and focus on managing drilling fluid weight, because it can be a major factor to cause inadvertent returns.
The costs incurred by contractors for using and disposing of drilling fluid are continuing to increase. A proper supply of drilling fluid is critical to operational efficiency for HDD contractors.
How can HDD operations continue without shouldering these costs? Adding a reclaimer – a piece of equipment that's been used in the vertical drilling industry – shows that these challenges don't need to impede operations. By using a reclaimer, HDD operators can become more efficient by recycling drilling fluid and reducing the amount of water consumed. In addition, removing sand and potentially other highly abrasive solids can help prevent premature wear on drilling fluid pumps and other tooling downstream.
Thinking of adding a reclaimer?
Answering this question starts by looking outside the HDD sector. The water situation facing the HDD sector is nothing new to the oil and natural gas industry. For years, that sector has utilised reclaimers to recycle drilling fluid and gain efficiencies associated with the large volume of water needed to sustain production.
Horizontal directional drilling utilises the drilling fluid to be the conveyor for cuttings created as the bit penetrates the ground. A robust supply of drilling fluid is a critical component of efficiency . When the correct volume of fluid is deployed into the bore hole, the fluid will flush the cuttings away from the bit which will help reduce the probability of an inadvertent return (IR).
If you're looking to add a reclaimer to your operation, here are a few questions to start the decision-making process.
1. How many gallons per minute do you need to pump?
Today, HDD is used for larger-diameter work, anywhere from 16" to 42" (40.6 cm to 106.7 cm) pipes requiring 24" to 60" (61 cm to 152.4 cm) holes in some cases. The volume of fluid needed to displace the cuttings out of the hole can be such that water consumption is so great that contractors must utilise a reclaimer. As fluid management technology improves and the industry continues to better understand the value of a reclaimer, it's more common to see a reclaimer on HDD jobsites, even in projects where the gpm is as low as 100 gpm (378.5 L/min).
2. What materials are you handling?
The composition of the material in which you're drilling also has a lot to do with drilling fluid and water needs. If you are drilling in rock, you will likely need a higher gpm to achieve the needed torque to cut the rock. As drilling fluid motors are powered by the flow of fluid, the greater the flow, the greater the torque. In contrast, sandy conditions can lead to a less stable hole and sometimes increase the demand for both water and drilling fluid additives to stabilise the hole. These conditions can set the stage for premature wear to downhole tooling and drill stem. Potentially reducing premature wear on tooling, drill stem and helping reduce mud drilling fluid pump rebuilds is another way in which reclaimers can potentially increase your operational efficiency.
3. How can you help reduce drilling fluid pump rebuilds?
Beyond the potential reduction of overall wear and tear on the higher-value downhole tool components, reclaimers can also help ease the demands placed on pumps that would otherwise be called upon to pump more drilling fluid, sand and heavier material during drilling operations. This results from the filtration of fluid removing large amounts of abrasive material. Reclaimers can also help make it more efficient to dispose of materials pulled from drill holes once the water has been reclaimed and reused.
"Using a reclaimer can help reduce drilling fluid pump rebuilds and can help reduce material disposal costs," said Andy Bremner, corporate account manager - pipeline at Vermeer Corporation. "The way drilling operations are regulated, it's more convenient to dispose of a solid than a liquid. The reclaimer separates solids, so the material coming off the machine should be a lot drier."
4. Do you understand the benefits?
As drilling operations become larger, the potential benefit of reclaimers typically grows. With the large HDD operations, Bremner said operating reclaimers is common practice, both because of their efficiency benefits as well as their role in regulatory compliance and environmental stewardship.
The combination of increased regulation and regional scarcity of available water for drilling fluid has gone a long way in proving the benefit of reclaimers. Between the cost of disposal of wetter drilling materials and securing and transporting water, that benefit can grow as operations increase in size.
5. What are your regulatory pressures?
"Reclaimers help operators use less water to be more efficient," Bremner added. "As the industry becomes better educated and disposal costs continue to increase, the argument for utilising a reclaimer that can help maximise efficiency by reusing more of your water becomes much more compelling."
Now that you've answered these questions, are you interested in adding a reclaimer to your fleet? If the answer is "yes", then it's time to determine which model is right for your needs.
Reclaimers come in a variety of sizes and it is important to pair the right reclaimer with the right size rig based on the volume of mud required for a specific application. For example, Vermeer offers a reclaimer product line engineered to support 100 000 lb (45 359.2 kg) drill classes and up. To learn more, contact your local Vermeer dealer or visit Vermeer's website.
Read the article online at: https://www.worldpipelines.com/equipment-and-safety/20062018/is-it-the-right-time-to-add-a-reclaimer-to-your-operation/
You might also like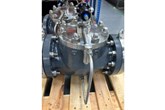 Oxford Flow expands its product range and grows market potential with new high- and low-pressure pilots.