---
NDT Global, a leading supplier of ultrasonic pipeline inspection and integrity services, has announced two major advances in pipeline crack inspection technology.
Enhanced Sizing methodology can size cracks to 100% wall thickness
NDT Global UCx Enhanced Sizing methodology is capable of sizing the full range of crack depths up to 100% wall thickness. The removal of depth sizing limitations provides operators with more accurate data for better informed decisions regarding pipeline operations.
"We're extremely proud of what our team has accomplished," said Richard Matthews, NDT Global President and CEO. "One of these breakthroughs would have been an achievement. Introducing a solution that incorporates two industry firsts is remarkable."
NDT Global has improved depth sizing accuracy of its industry-leading UCx technology by 20%. This advancement further enhances the data that operators rely on for safe operation of their pipeline assets. UCx Enhanced Sizing is designed specifically for high-precision inspection of axial cracks in welds. This level of precision is shown in its probability of detection (POD) specification for axial cracks, crack-like anomalies and linear indications equal to or greater than 99%.
New Evo Eclipse UCx Technology is the first to overcome tilt and skew limitations
"Evo Eclipse is one of the most important advances in the history of ILI technology," said Dr Thomas Hennig, NDT Global's Technology Advisor. "It builds on the strengths of Evo Series 1.0 UCx."
In addition to the benefits delivered by UCx Enhanced Sizing, Evo Eclipse offers a sensor configuration that provides the capability to identify and accurately size tilted and skewed cracks, e.g. hook cracks or cracks at the bevel of typical DSAW seams.
Along with enhanced capabilities for accurately detecting and sizing tilted and skewed cracks (hook cracks), a new ILI critical-feature detection capability supports the replacement of hydrostatic testing with ILI critical feature detection. Inspection efficiency is further optimised by the system's ability to combine crack, metal loss, and geometry inspection. These dramatic improvements reduce operator risk while minimising the total cost of asset management.
"High-resolution Evo Eclipse crack inspection technologies offers operators more accurate results, with tighter depth-sizing tolerances," Matthews added. "We are confident Evo Eclipse will become the new standard for reliable, efficient, and accurate pipeline inspections."
Read the article online at: https://www.worldpipelines.com/equipment-and-safety/20022019/advances-in-pipeline-crack-inspection-technology/
You might also like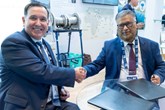 The partnership is to bring critical flange isolation offerings for the Kingdom of Saudi Arabia.