---
Created in 1956 by construction of the Garrison Dam on the Missouri River, Lake Sakakawea is part of a flood control and hydroelectric power generation project in North Dakota. With a length of 285 km, an average width of 3 - 5 km and a maximum width of 23 km, Lake Sakakawea limits the ability to transport natural gas takeaway from the Bakken Formation in northwest North Dakota to pipeline interconnects to the southeast. As a result, the existing infrastructure was not sufficient to meet transportation needs for the natural gas produced during the crude oil extraction process.
Faced with costly and inefficient options of building hundreds of kilometers of pipeline around Lake Sakakawea or transporting liquid natural gas around the lake in tanker trucks, much of the natural gas was safely burned as a flare to prevent release of hydrocarbons directly into the atmosphere.
Already transporting half of the natural gas produced in the Bakken region, WBI Energy, Inc. (WBI), a subsidiary of MDU Resources Group, Inc., contracted Michels Corporation in 2021 to build the transmission pipeline and trenchless segments of its North Bakken expansion project. Michels is an energy and infrastructure construction company based in Brownsville, WI and serves customers throughout the world.
According to WBI, the North Bakken expansion project was designed to provide up to 250 000 dekatherms per day (Dth/d) of firm transportation service from receipt points in the Williston Basin of northwest North Dakota and near WBI's existing Tioga Compressor Station to a new interconnect with Northern Border Pipeline Company (Northern Border) in McKenzie County.
The mainline pipeline work included construction of approximately 100 km of new NPS 24 (24 in. OD) natural gas pipeline, 50 km of 12 in. OD natural gas pipeline, and 0.96 km of 8 in. (8 in. OD) natural gas pipeline through rolling hills, badlands and prairie.
A critical element of the project was completion of a formidable trenchless crossing the likes of which had not previously been attempted at the 24 in. diameter in the world: 4702 m – or about the same distance as a 5 km run.
HDD was chosen as the most viable, yet still very challenging, method for the installation. The HDD portion of the North Bakken expansion project was 687 m longer than an HDD Michels completed in the same vicinity just two years earlier. In 2019, that 4038 m installation of a 20 in. OD steel pipe also pushed the limits of HDD technology and was considered one of the longest-ever completed in North America at that diameter.
Michels put its team to work studying the project and developing multiple plans to achieve the highest possibility for success with the most minimal chances for injuries or environmental issues. Among major considerations were the following factors.
To access the full version of this article and get a free trial subscription to World Pipelines, be sure to sign up here!
Read the article online at: https://www.worldpipelines.com/equipment-and-safety/19042022/safe-and-successful-horizontal-directional-drilling/
You might also like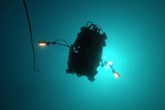 Voyis and Deep Trekker, have joined forces to achieve the successful fusion of Voyis' Discovery Camera with Deep Trekker's REVOLUTION ROV.